Omaha, NE – Scooter's Coffee, the Midwest-based coffee franchise that has experienced tremendous growth over the past year, is joining coffee lovers everywhere in celebrating National Coffee Day on Saturday, September 29.
Scooter's Coffee will offer free, hot brewed coffee, any size, to anyone visiting a Scooter's Coffee location.
"Our patrons are very passionate about their coffee," said CEO Todd Graeve. "We wanted to give back to our loyal customers for National Coffee Day and treat them to their morning cup of coffee. Our amazing customers have supported us for 20 years, and we're excited to experience the next 20 years with them."
Since Scooter's Coffee is fueling its fans with a free brewed coffee on National Coffee Day, the brand wants to know who fuels its fans on a daily basis. Starting on September 24, customers are encouraged to visit facebook.com/scooterscoffee and nominate a significant person in their life that inspires them every day. One lucky winner will receive free coffee for a year. Nominations will be accepted through Saturday, September 29.
In addition, on National Coffee Day, Scooter's Coffee fans can upload a coffee selfie to Instagram or Twitter and hashtag #ScootersCoffeeDay. The brand will then review the posts and select winners at random for Scooter's Coffee swag, gift cards and more!
Following National Coffee Day, on October 1, fall fanatics can rejoice with the return of the Caramel Apple Butter Latte. This fall favorite combines apple butter flavor, caramel and espresso for the perfect drink to cozy up with. The Caramel Apple Butter Latte will be available for October only.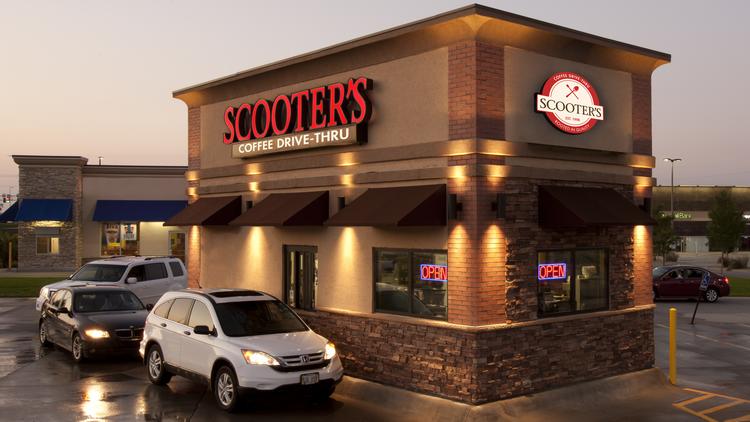 About Scooter's Coffee
Founded in 1998 by Don and Linda Eckles in Bellevue, Nebraska, Scooter's Coffee roasts only the finest coffee beans in the world at its headquarters in Omaha, Nebraska. In more than two decades of business, Scooter's Coffee's success is simple: stay committed to the original business principles and company core values. The Scooter's Coffee Brand Promise, often recited to franchisees, customers and employees is: "Amazing People, Amazing Drinks… Amazingly Fast!®" It represents the company's business origins from 1998 and reflects a steady commitment to providing an unforgettable experience to loyal and new customers.
Scooter's Coffee specializes in hand-tamped espresso drinks, fruit smoothies, baked-from-scratch pastries and features its signature drink, the Caramelicious®. The company also serves a line of hot and iced organic teas, single-origin coffee and the original Cold Brew & Cream. This year, one of Scooter's Coffee's drink innovations includes Red Bull Infusions.
Scooter's Coffee is at the dawn of a strategic growth phase in the Midwest and nationwide. The U.S. coffee market is an estimated $48 billion a year recession-resistant industry, and Scooter's Coffee is striving to become the #1 drive-thru coffee franchise in the nation. Visit ownascooters.com to learn more about the benefits of owning a franchise of a well-established company.
For more information, visit scooterscoffee.com, facebook.com/scooterscoffee, ownascooters.com or call 877-494-7004.
SOURCE Scooter's Coffee