FORT WORTH, TX – PRNewswire
Fuzzy's Taco Shop has partnered with Share Our Strength's "No Kid Hungry" initiative in their mission of ensuring all children get the healthy food they need to thrive. Throughout the month of September, guests at Fuzzy's Taco Shop who donate $2 or more will receive a coupon for a free order of Chips & Queso redeemable on their next visit, while helping end childhood hunger in America.
The $2 donation provides a child with 20 meals through the Share Our Strength initiative. Last September, Fuzzy's Taco Shop raised more than $93,000 and hopes to surpass that amount this year as they "Queso for a Cause." In addition to its almost-famous Chips & Queso, Fuzzy's Taco Shop is also known for Baja-style tacos and other casual Tex-Mex favorites across 144 locations nationwide.
"In America today, 1 in 6 kids faces hunger, so it's more important than ever to contribute to programs like No Kid Hungry that are helping children gain access to necessities like a healthy breakfast at school and free meals during the summertime," said Mel Knight, president of Fuzzy's Taco Shop. "We are excited to partner with Share Our Strength for the fifth year because as an organization, we're passionate about doing our part in making No Kid Hungry a reality in America."
Donations made at Fuzzy's Taco Shop in September will help No Kid Hungry fund school breakfast programs, recruit summer meal sites, and empower families to shop for and prepare healthy meals. The organization also provides grants to hunger-fighting organizations across the country to help them end child hunger within their communities.
Share Our Strength started on Capitol Hill in 1984 because of the famine in Ethiopia going on at the time. While the organization, started by brother and sister duo Bill and Debbie Shore, had many focuses globally for fighting hunger and poverty, Share Our Strength focuses their efforts, now, on making No Kid Hungry a true reality in America. For a list of participating restaurants or for more information on No Kid Hungry, please visit www.nokidhungry.org or dineout.nokidhungry.org.
For more information visit, www.FuzzysTacoShop.com. Like Fuzzy's Taco Shop on Facebook, follow on Twitter, and Instagram for updates on promotions and your daily fix of taco pictures.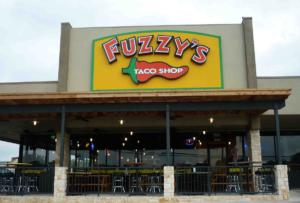 About Fuzzy's Taco Shop
Founded in 2001 near the TCU campus in Fort Worth, the original Fuzzy's Taco Shop® was purchased by Alan and Chuck Bush after just two years of operation "to focus our full attention on promptly and efficiently providing our guests with generous helpings of uniquely flavorful foods at a fair price in a fun atmosphere. Fuzzy's corporate-owned and franchise locations serve fresh, handmade Baja-style Mexican food in 144 stores across 12 states, with many more on the way. Fuzzy's Taco Shop was named Nation's Restaurant News' #7 "Fastest Growing Chains" in 2018, and is a member of the International Franchise Association and participates in its VetFran Program, which provides special financial incentives to qualified veterans.
SOURCE Fuzzy's Taco Shop