LOGAN, UT – A special guest appearance by Gigi Butler, founder of Gigi's Cupcakes, will highlight the grand opening celebration for the new Gigi's Cupcakes at 975 N Main St Suite 120 in Logan, Utah. The Logan location is the first in Utah, with Gigi's Cupcakes now open in 24 states.
There will be a ribbon cutting on Friday, August 3rd at 11:00AM with the local chamber of commerce. The grand opening celebration will take place on Saturday, August 4th, from 11:00AM to 1:00PM. Gigi will make a special appearance in-store, giving customers a chance to meet the culinary creator behind the popular brand, along with live radio shows from the store with 92.9 KBLQ and 94.5 KVFX.
Starting Monday, July 30th, customers can enter to win prizes including KitchenAid mixers, Gigi's gift cards, and more. Prize winners will be announced Monday, August 6th.
Gigi's awarded a multi-unit franchise agreement to enter Utah to Logan owner Matt Weston. Prior to bringing Gigi's to Utah, Weston worked in his family business operating and managing hotels. Looking for a new opportunity that could involve his wife Launa and their seven children, he decided to utilize his background in hospitality and love of baking to open a Gigi's in his home state.
"We are thrilled to serve the community here in Logan," said Weston. "We are excited to bring Gigi's sweet treats to Logan, and hopefully the rest of Utah soon, as we continue to expand west."
Best known for its signature "Gigi's swirl," the bakery offers a variety of gourmet desserts, including 300 rotating cupcake flavors with sugar free and gluten free options, mini cupcakes, custom cakes, cheesecakes and stuffed cookies.
More information on Gigi's Cupcakes is available at www.gigiscupcakesusa.com.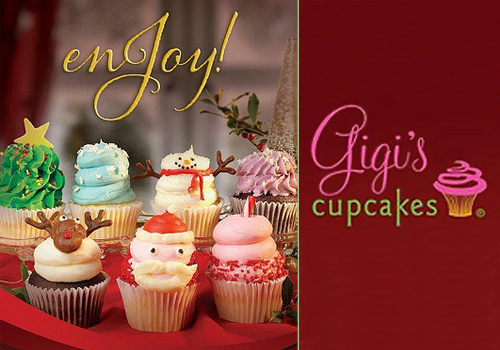 About Gigi's Cupcakes
Founded in 2008 by Gina "Gigi" Butler as a local boutique bakery in downtown Nashville, Tenn., Gigi's Cupcakes has grown into America's favorite cupcake franchise with nearly 100 locations nationwide. Gigi's Cupcakes offers a wide variety of high-quality, freshly baked goods, including cupcakes, cakes, pies, cookies and more all made from recipes created by Gigi, whose American Dream story has inspired people across the country. More information on Gigi's Cupcakes is available at www.gigiscupcakesusa.com.
Media Contact:   Ashley Mungiguerra
BizCom Associates
214-641-4870
ashley@bizcompr.com