SAN FRANCISCO – Fifteen cities. Six weeks. Junk King's one goal -Cleaning up America.
Fueled by its ecofriendly mantra to recycle, reuse and repurpose, the nation's leading junk removal company is embarking on its first cross-country road trip to tidy up cities coast-to-coast.
Departing on Earth Day, April 22, 2018, Junk King's patriotic-branded Cleaning Up America truck is leaving San Francisco to visit various homeowners, small businesses and nonprofit groups across the United States. Throughout the six-week journey, Junk King's team is lending its services to help these groups declutter while raising awareness about recycling. Junk King's work these 6-weeks will involve no cost for the groups and individuals that participate.
"Cleaning Up America is by far the larges, longest running and most exciting giveback initiative we have put together yet," said Michael Andreacchi, CEO of Junk King who personally kicks off the tour on April 20. "The process of clearing out is liberating and necessary, and its heartbreaking to know not everyone has the manpower or resources to haul everything away or maintain a clean space. That's why we're inspired to make this trip -to provide some relief to folks all over the States, hear their story and make a meaningful difference in their lives."
Making the environmental movement a brand-wide effort, the Cleaning Up America truck will be driven and passed forward from one Junk King franchisee to the next in each local market. To capture the moments of generosity and gratitude, Junk King will be documenting the entire journey by recording the visits and later releasing city-themed episodes for the rest of America to see.
The cities on the Cleaning up America tour include:
Peninsula, California
Los Angeles, California
Las Vegas, Nevada
Salt Lake City, Utah
Denver, Colorado
Philadelphia, Pennsylvania
New York City, New York
Boston, Massachusetts
Baltimore, Maryland
Washington D.C, Virginia
Des Moines, Iowa
Chicago, Illinois
Grand Rapids, Michigan
Cincinnati, Ohio
Pittsburgh, Pennsylvania
As part of the brand's year-round commitment to being environmentally conscious, any items collected by Junk King will be taken to the nearest warehouse, where a team will facilitate managing and sorting of the materials. In fact, sixty percent of the junk collected from jobs is recycled, rather than being dropped at landfills. And through partnerships with local nonprofits and community organizations, the remaining items are donated and repurposed to benefit residents throughout United States.
To learn more about Junk King, visit www.junk-king.com. Follow the Cleaning Up America truck's journey by visiting www.facebook.com/JunkKingFranchise. The full tour schedule can be seen on www.junk-king.com/promotions/cleaning-up-america.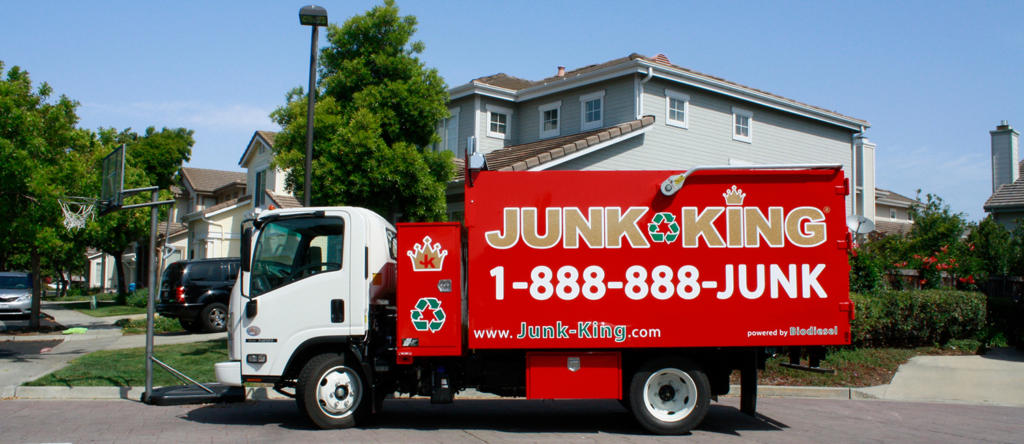 About Junk King
Founded in 2005, Junk King was started by two friends in a two-car garage in San Carlos, California. In 2010, the company began franchising. Today, Junk King is the second largest junk removal company in North America with 350 units and 101 franchisees. Junk King saves consumers time and money by eliminating unwanted clutter quickly and efficiently. Junk King is best known for its professionalism, advanced technology programs and commitment to recycling, repurposing and reusing materials. The brand is currently the highest rated service business in North America with a net promoter score exceeding 89 percent.
SOURCE Junk King