CHICAGO, IL—GlobeNewswire
Freshii Inc., the fast-growing health and wellness brand, has released an open letter to Subway (Doctor's Associates Inc.). Highlighting the recently reported Subway franchise partner frustrations, the letter offers a sincere proposal to Subway that aims to reignite their franchise partners' entrepreneurial spirits. The solution proposed to Subway seeks their assistance in transitioning select Subway franchise partners to the Freshii brand – which represents the next generation of healthy food –  while allowing both Freshii and Subway to continue delivering on their missions to provide healthy food, globally.
Dear Subway,
Can we talk? Major US press outlets have reported that in 2017, over 900 Subway locations closed, your store traffic decreased by 25% in the last 5 years and your franchise partners are upset, recently signing a petition protesting the $4.99 footlong promotion.
"As a business owner you'll be in a constant race against an ever-improving marketplace."  These are the words of Fred DeLuca, the late, great Founder and CEO of Subway Restaurants and the pioneer of healthier fast food in the '80s and '90s.
At Freshii, we share Fred's passion for the entrepreneurial spirit and the mission to serve fresh food, globally. As Freshii's Founder & CEO, I am grateful to have met Fred and call him an inspiration.
Fred's trailblazing spirit taught us a lot. Freshii is now the fastest-growing global restaurant brand; we opened our first several hundred restaurants faster than McDonald's, Dominos and even Subway. Our 18 consecutive quarters of strong same store sales growth are a testament to this and have helped our franchise partners grow their sales and profits. We operate in over 15 countries today – and we are growing!
We have a sincere proposal to help Subway appeal to the next generation of fresh food lovers and your franchise partners globally.
Rather than risking the closure of another 900 Subway stores in 2018, let's explore a partnership. Let's work together to convert select Subway stores to Freshii restaurants. This will allow Freshii and Subway to achieve a mutually beneficial outcome: supporting entrepreneurial franchise partners and continuing to deliver on our missions.
Over time, we too plan to open thousands of restaurants around the world as we continue to deliver on our mission of making healthy food convenient and affordable for all citizens of the world. But we could get there faster together.
By allowing some of your franchise partners to convert now, we believe you'll be creating a better business future for them.  You'll also be improving the future of your remaining franchise partners who will continue to operate their Subway restaurants in a less crowded marketplace. The health of the overall Subway system will be improved.
Will this work?  We've already helped dozens of franchise partners from many iconic restaurant brands and global sandwich shops become successful Freshii partners—by either converting their stores or bringing the Freshii brand into their portfolio. They're feeling re-energized as they become part of a restaurant brand built for today's generation.
If you share Fred's dream, you'll be excited to share ours. If you share Fred's passion, we'll get along like kale and quinoa.  Fred liked to spend time in our Freshii restaurants, sampling our menu and witnessing firsthand the creativity, passion and entrepreneurial spirit that makes us special.  I hope your leadership team and franchise partners around the world will do the same, now!
Visit www.freshii.com/dearsubway to learn more about this opportunity.
I want your consent and I hope to hear from you soon. As Fred liked to say, "Opportunity waits for no one!"
Matthew Corrin
Founder & CEO
dearsubway@freshii.com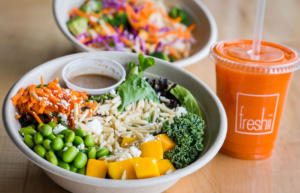 About Freshii
Eat. Energize. That's the Freshii mantra. Freshii is a health-casual restaurant brand that serves fresh food designed to energize people on the go. With a diverse and completely customizable menu of breakfast, soups, salads, wraps, bowls, burritos, frozen yogurt, juices and smoothies served in an eco-friendly environment, Freshii caters to every taste and dietary preference.
Since it was founded in 2005, Freshii has opened hundreds of restaurants in cities and countries around the world. Freshii can be found in all location types from cosmopolitan cities, college campuses, suburban neighborhoods and malls to fitness clubs, airports and small towns.
Inquire about how to join the Freshii family: https://freshii.com/us/franchising.
Learn more about investing in Freshii: http://ir.freshii.com.
Learn about the Freshii brand: https://vimeo.com/195658178.
Find your nearest Freshii: http://www.freshii.com.
Follow Freshii on Twitter and Instagram: @freshii
For further information contact: 
Melissa Gallagher
melissa.gallagher@freshii.com
647.302.7241
Adelaide Johnson
adelaide.johnson@freshii.com
416.894.2912