Subway is staring down at a menu of scary problems that's way more than a foot long.
The struggling sandwich chain has seen customer traffic plummet a whopping 25 percent over the past five years amid fierce price competition and a slew of scandals that have battered its image, The Post has learned.
In a Nov. 30 memo to franchisees that revealed the stomach-churning drop, Subway's owners promised $25 million to boost marketing this spring for the company's 44,000 locations and to bring back a limited-time, $4.99 footlong sandwich promotion.
Subway is concerned that consumers no longer see its sandwiches as a bargain versus its key competitor, McDonald's. Subway likewise wants to plow into healthier and more natural fare, including wraps and "all-natural turkey," according to the memo obtained by The Post.
But the crucial footlong deal — aimed squarely at the McDonald's dollar menu — is in danger because of a revolt by franchise owners, who fret that doubling down on discounts will further shave their already thin profits.
More than 400 of them have signed a petition protesting the two-month footlong deal that's slated to begin in January.
"The national promotional focus over the past five years … has decimated [us] and left many franchisees unprofitable and even insolvent," petitioners led by Virginia franchisee Mitesh Raval complained in the Dec. 6 letter to Subway.
A Subway spokeswoman declined to comment on the memo or the petition, although she insisted that most franchisees support the footlong promotion.
"The shareholders do understand the magnitude of this situation," Subway CEO Suzanne Greco had said in the memo a week earlier, referring to Subway's private holding company, Doctors Associates, which is controlled by co-founder Peter Buck and the family of the late Fred DeLuca, who co-founded the chain with Buck in 1965.
"However, the shareholders' commitment to provide these significant additional resources is contingent on solidarity," said Greco, who is DeLuca's sister and took over the chain upon DeLuca's death in 2015.
Subway this month has been calling regional town hall meetings with franchisees, trying to convince them that discounts will prop up profits instead of pinching them.
"The erosion of baseline traffic and related profitability decline is the overwhelming primary issue for our brand," Subway said in the memo.
Diners have fled Subway amid a slew of public-relations nightmares. In 2013, it got slapped with a suit claiming its footlong heroes measured just 11 inches — a case only recently dismissed by a judge. A year later, it was revealed that Subway's bread contained a chemical that's used to make yoga mats. In 2015, pitchman Jared Fogle was sentenced to 15 years in prison on child-porn charges and for crossing state lines for underage sex.
Most recently, Subway was forced to sue a Canadian TV network over an expose that alleged the chicken in its sandwiches was mostly soy filler. The network is standing by its report.
Looking to offset customer defections and minimum wage increases, Greco has lately moved to ax dozens of highly paid "development agents" — contractors who for decades grew restaurant counts in exclusive territories and supervised their day-to-day operations.
With the territories now filled in and growth all but stopped in the US, the millions of dollars paid to each agent will now flow up to corporate, sources said.
"They are taking over territories and these territories are doing worse," says Yogesh Dave, a former development agent who was terminated in 2016 after overseeing 215 Subway restaurants in northern New Jersey. "Nothing has increased sales. We have a stale food menu."
Julian Shelton of Ashland, Va., who won the 2014 Subway franchisee of the year award, wrote in last week's petition that Subway needs to try new flavors like teriyaki glaze and adobo chicken seasoning.
"We need to improve our food and we need to be bold about it," Shelton said. "We are too cautious with our flavors."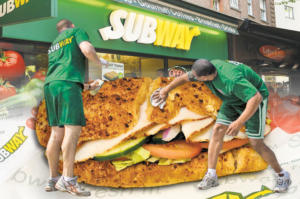 About Nékter Juice Bar
Founded in 2010, Southern California-based Nékter Juice Bar is a premium, award-winning, modern juice bar concept offering guests a delicious selection of fresh, clean and nutrient-rich juices, smoothies, acai bowls, and healthy snacks at nearly 100 restaurants in the United States. The lifestyle restaurant brand has transformed the juice bar experience, offering total ingredient transparency by eliminating hidden fillers, unnecessary sugars, processed ingredients, and artificial flavors from its entire menu. With an unwavering commitment to authenticity, quality and innovation, Nékter Juice Bar is rooted in the fundamental philosophy that "healthy" can taste great, be easily accessible, and be affordable too.
Now with restaurants in California, Arizona, Nevada, Texas, Utah, Colorado, and Washington State, Nékter plans to expand nationally to 425 restaurants by 2020. Within the next few years, Nékter will open in: Atlanta, Central California, Chicago, Florida, Louisiana, New Mexico, North and South Carolina Ohio, Tennessee, Tucson, and the Washington D.C.-Maryland-Virginia metropolitan area. Among several recent recognitions are: 2017 "Next 20" Brand to Watch by Nation's Restaurant News; #217 on Entrepreneur Magazine's Franchise 500®; #21; #334 on Inc. Magazine's 5000 Fastest-Growing Private Company List in 2016. Entrepreneurs, who want to own a business in a thriving health and wellness sector of the restaurant industry, can visit www.nekterjuicebar.com/franchise to learn more.
Contact:
Erin Peacock
Peacock PR
949-939-1872
peacockpr@cox.net