DENVER – PRNewswire
Smashburger® launches the award-winning Twin Cities Burger nationwide, tempting burger lovers everywhere with the chance to enjoy this regional favorite for a limited time. Beating out 102 other burgers ranked by Mpls.StPaul Magazine, Smashburger's Twin Cities Burger landed at the top spot, named No. 1 with a near perfect 96 rating.
Smashburger's Twin Cities Burger features the rich, decadent flavors Minnesotans love and the rest of the country will crave. The Twin Cities Burger starts with a fresh, never frozen, beef patty, smashed and seared on a hot grill to lock in the flavor and juices. And to satisfy the Twin Cities love for cheese, it is topped with melted aged cheddar and melted Swiss, plus decadent garlic grilled onions. Finished with crisp lettuce, fresh tomato and rich, creamy mayo, all on a butter-toasted onion bun.
"Double the cheese, and double the oniony flavor make this burger a true standout," said Tom Ryan, co-founder and CEO of Smashburger. "It's been a favorite of Smash fans in Minneapolis-St. Paul since 2009 and we look forward to sharing our award-winning burger with the rest of the country."
The Twin Cities Burger will be available for just $5 at most full menu US Smashburger restaurants for a limited time. The Twin Cities Burger is the latest featured product on the Everyday Smash Specials. New product offerings at great values can be found on www.smashburger.com or check us out on Facebook, Twitter, or Instagram.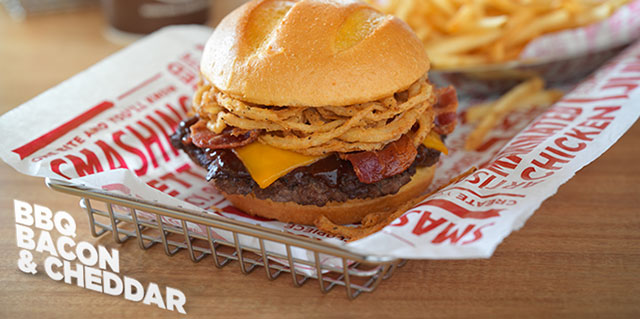 About Smashburger
Smashburger is a leading fast casual better burger restaurant known for its fresh never frozen, beef burgers that are smashed on the grill to sear in the juices and seal in the flavor. In addition to burgers, Smashburger offers grilled or crispy chicken sandwiches, black bean burgers, fresh salads, signature side items such as haystack onions and veggie frites, and hand-spun shakes made with Haagen-Dazs® ice cream.  On each market menu, Smashburger offers locally inspired items like the regional burger, as well as regional sides and local craft beer. Smashburger began in 2007 with the vision of Rick Schaden and funding by Consumer Capital Partners—the private equity firm that Rick and his father Richard own. There are currently more than 360 corporate and franchise restaurants operating in 38 states and nine countries. To learn more, visit www.smashburger.com.
Media Contact:
Katy Michael
720-378-1931
kmichael@smashburger.com