WACO, Texas — Neighborly, formerly Dwyer Group, one of the world's largest franchising companies of home service brands, has announced the appointment of Bryan Saltzburg to the Board of Directors, effective immediately.
In this role, Saltzburg will work with the rest of the company's board members to guide activities at Neighborly and the company's family of service brands as they continue to grow and expand on a global level.
"The Neighborly Board of Directors is thrilled to have a seasoned professional like Bryan join our team," said Mike Bidwell, President and CEO of Neighborly. "Bryan is a strong B2C executive who has nearly 20 years of managerial experience running marketing, product and operations within some of the largest brands in the consumer Internet industry. He understands how to manage and lead growth through online services and will therefore make a great asset to our board as we continue to grow our Neighborly platform."
In addition to being recently appointed to the US Travel and Tourism Advisory Board, Saltzburg currently serves as President of Flights and Cruise for TripAdvisor, Inc., the world's largest travel site, and has been part of their executive leadership team for the past decade. Saltzburg has also served as Vice President and General Manager of New Initiatives, tasked to incubate and scale large online business verticals on a global basis, including Flights, Vacation Rentals, and now Cruise. Prior to TripAdvisor, he gained extensive experience working with other leading consumer brands including Travelocity.com, The Walt Disney Company, Neutrogena Corporation and Princess Cruise Line, Ltd. Both Travelocity.com and TripAdvisor, Inc. experienced tremendous periods of growth during his tenure.
"I am honored to be joining the Neighborly Board at such a pivotal time for this growing brand," said Saltzburg. "As Neighborly continues to be a leading innovator in the home services industry, I am excited to contribute to this team as the parent company works toward setting and achieving new goals for its family of franchising companies."
Saltzburg holds a Master of Business Administration degree from the University of Southern California Marshall School of Business as well as a Bachelor of Arts degree in Education and Social Policy from Northwestern University.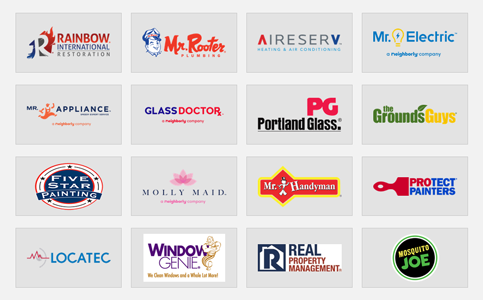 About Neighborly:
Neighborly is a holding company of 21 service brands, focused on repairing, maintaining and enhancing consumers' homes and businesses. The company operates online platforms that connect consumers to service providers in their local communities that meet their rigorous standards as a franchisor across 14 service categories at www.getneighborly.com in the United States and www.getneighbourly.ca in Canada. The company was founded in 1981 as Dwyer Group and is based in Waco, Texas.