Goddard Schools Nationwide Virtually Unite to Foster Environmental Stewardship.
KING OF PRUSSIA, Pa. — Every year, The Goddard School®, the nation's leading preschool franchise system with a curriculum that promotes learning through play, hosts its annual Root for Earth celebration, which teaches children the importance of environmental sustainability by recycling and conserving energy. This year, from April 20 to 24, teachers, students and families nationwide will virtually unite to celebrate Earth Week with environmentally friendly activities that can be done at home.
Parents will have access to the newly launched Goddard at Home program, a distance learning program that ensures the mental health and academic development of the students will continue to grow during this disruptive time.
Through this virtual program, preschoolers attending The Goddard School will participate in innovative home learning projects, including their annual Recycled Runway Fashion Show where children create outfits and costumes from unwanted materials found around the house. Additionally, children across the country will create crafts from recycled items and participate in other eco-friendly activities that promote S.T.E.A.M (science, technology, engineering, art and math) learning.
At the core of Root for Earth is the signature Lights Out initiative. This year, The Goddard School asks families nation-wide to participate by turning off all non-essential lighting at home for one hour on Earth Day.
"The Goddard Root for Earth program empowers our students to practice environmental responsibility in a fun and engaging way," said Dr. Craig Bach, Vice President of Education at Goddard Systems, Inc., the franchisor of The Goddard School. "We are thrilled to be able to continue this tradition at home this year, furthering the lessons of environmental stewardship with our students and enabling them to be active participants in caring for the earth."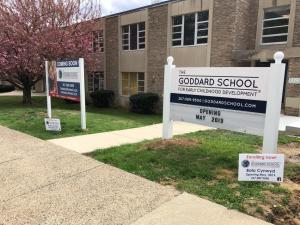 About The Goddard School

As experts in early childhood education, The Goddard School uses the most current, academically endorsed methods to ensure that children from six weeks to six years old have fun while learning the skills they need for long-term success in school and in life. Goddard Schools' play-based curriculum includes environmental lessons that encourage children to make sustainable choices that will benefit the ecosystem.
For more information on this campaign, including tips for busy families to do their part to support the environment please visit www.goddardschool.com/rootforearth.