GALLATIN, TN—Marketwired 
SERVPRO has extended its sponsorship with the PGA Tour through the 2020 season, retaining its designation as the official cleanup and restoration company of both the PGA Tour and the Champions Tour according to Sue Steen, Servpro Industries, Inc., chief executive officer. SERVPRO's first event of the 2018 PGA Tour season tees up this week with the Farmers Insurance Open at Torrey Pines Golf Course.
"The entire SERVPRO family is proud to be associated with the prestigious and well-respected PGA Tour," said Steen. "This sponsorship allows us to showcase our capabilities not only to the communities where PGA events are held, but also to the huge television and online audience that follows the Tour. Both individual property owners and commercial facility owners will have the opportunity to learn about SERVPRO and the services offered as they enjoy watching the world's best players compete on the world's most beautiful golf courses."
Steen reveals that SERVPRO will have a presence at several PGA Tour tournaments in 2018, including The Players Championship and The TOUR Championship. "In addition, we plan to be involved with First Responder events throughout the PGA Tour year," said Steen.
"SERVPRO is a national leader and provider of fire and water cleanup and restoration services, but each SERVPRO Franchise is a local business, operated by a local business person with ties to the community he or she serves," says Steen. "The wide and growing audience the PGA Tour commands will learn a SERVPRO professional is available in their local community, ready to respond at a moment's notice if things go wrong at their home or business."
SERVPRO specializes in disaster restoration, cleanup and repair services, helping to remediate damage, making it "Like it never even happened" for both commercial and residential customers. For more information on SERVPRO please visit www.servpro.com/.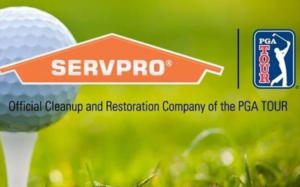 About SERVPRO®
Founded in 1967, the SERVPRO® Franchise System is a leader and provider of fire and water cleanup and restoration services and mold mitigation and remediation. SERVPRO's professional services network of more than 1,700 individually owned and operated Franchises responds to property damage emergencies ranging from small individual disasters to multi-million dollar large-loss events. Providing coverage in the United States and Canada, the SERVPRO® System has established relationships with major insurance companies and commercial clients, as well as individual homeowners.
Contact:
Kim Kramer Brooks
Corporate Communications Coordinator
Servpro Industries, Inc.
(615) 451-0200 ext. 1644
kbrooks@servpronet.com