IRVINE, CA—GLOBE NEWSWIRE
Realty ONE Group, the fifth-largest independent real estate brand and one of the fastest-growing real estate franchisors in the nation, has launched its largest advertising campaign to date with a historic media blast throughout New York City's iconic Times Square district.
This historic advertising campaign will connect Realty ONE Group with thousands of real estate professionals, while simultaneously bringing high-level attention to the brand's "coolture" and untraditional business model. The campaign is also pushing the envelope as it correlates with the start of Inman Connect, an industry conference of more than 4,000 real estate and technology professionals hosted at Marriott Marquis Times Square, Jan. 22-26, 2018.
"No real estate company has ever booked multiple screens at this exclusive location, and we are thrilled to be the first," said Kuba Jewgieniew, CEO and founder of Realty ONE Group. "The content features real people, which is a critical objective for us – to connect with everyday real estate professionals and help them evolve into the rock stars of the industry."
The advertising campaign includes five unique 15-second videos that will broadcast on digital billboards above Times Square – and the conference itself – a total of 20,000 times during the week. It is the largest coordinated advertising campaign in Times Square ever purchased by a real estate company.
Based in Irvine, Calif., Jewgieniew has built Realty ONE Group into a national company of more than 110 locations and 10,000 real estate professionals who generated a total of $21 billion in sales volume in 2017. A key factor in its success is the company's YOU-First Focus—putting their real estate professionals first by engaging in high-tech partnerships, providing industry-leading branding support, and a unique and untraditional business model.
"We know how important these real estate conferences are for agents who are looking to expand their networks, so we are positioning ourselves to be as accessible as possible," Jewgieniew added. "Real estate professionals know that they can and will benefit from our UNbrokerage business model, and that no other real estate company offers a company COOLTURE that focuses on having fun while being successful."
Very recently, Realty ONE Group was ranked by Entrepreneur magazine as a Top 5 real estate franchise in the publication's Franchise 500 list. Swanepoel Power 200 also named Jewgieniew one of the Top 20 most powerful people in the residential real estate brokerage industry, as well as the Top 5 SP 200 Power Brokers.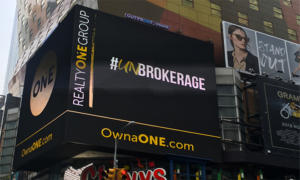 About Realty ONE Group
One-hundred percent family-owned and debt-free, Realty ONE Group was founded in 2005 and is proudly known as the industry's premier UNbrokerage. Realty ONE Group has rapidly evolved with over 10,000 real estate professionals in 110 offices across 26 states. Ranked in the top one percent in the nation by REAL Trends, recognized by Entrepreneur Magazine as a Top 5 Real Estate Franchise, and landing a coveted spot on the Inc. 500 Fastest-Growing Companies list for seven consecutive years, Realty ONE Group has been surging ahead, opening doors, not only for its clients but also for its real estate professionals and franchise owners. To learn more about the UNbrokerage, visit www.realtyonegroup.com/unbrokerage/. If you are interested in learning about owning a franchise, visit http://ownaone.com/