Local owner Ben Brown was feted at HomeFront Brands' inaugural franchisee convention
KNOXVILLE, Tenn. — Window Hero West Knoxville owner Ben Brown was awarded the Rookie of the Year for his Window Hero location at the franchise's parent company's first franchisee convention earlier this month.
HomeFront Brands, the property service franchise platform with six emerging concepts in its portfolio, hosted its inaugural convention, entitled "Homecoming," at the company's headquarters outside of Charlotte, North Carolina earlier this month. The conference brought together franchisees, corporate employees and vendor partners to celebrate HomeFront Brands' impressive growth since its inception in late 2022.
Brown's commitment to his community helped him earn his Rookie of the Year Award. In the eight months his location has been open, he has cleaned the exteriors of five schools in his service area. His Window Hero location provided this service for free with the goal of revitalizing the appearance of these schools' campuses.
"Ben's dedication to his community and his support for local schools is a shining example of what can be achieved through hard work and determination," said HomeFront Brands Chairman and CEO Jeff Dudan. "Our Homecoming Convention served as an example of HomeFront Brands' remarkable growth since our founding in 2022. We owe some of our tremendous success to Ben Brown's exceptional character and commitment to our core values."
The Rookie of the Year Award recognizes a newcomer who displays remarkable promise, adaptability and a tireless work ethic despite being in the early stages of their ownership journey. HomeFront Brands bestowed Rookie of the Year awards to a franchise owner of each of its four core brands: Window Hero, The Designery, Top Rail Fence and Temporary Wall Systems.
"I've always sought opportunities to give back to my community," Brown said. "When I opened my Window Hero location, I knew I wanted to establish my company as a source in providing a reliable service to my clients while also helping those in need. It's an honor to receive this award and I hope to continue to deliver exceptional performance as a HomeFront Brands franchise member."
Brown's service-oriented approach has long been a part of his personality. He and his wife, Brittany, have always been active in their community and are the engaged parents of Cooper, Hutch and Caroline. He also coaches several of his sons' sports teams and is active in the family's church.
Window Hero West Knoxville serves clients in Concord, Farragut and West Knoxville. For more information about Window Hero West Knoxville, please visit https://windowhero.com/locations/west-knoxville/.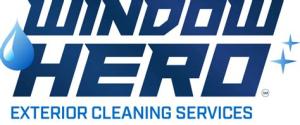 About Window Hero
Window Hero is a trusted and reliable company specializing in a wide range of exterior cleaning services. Whether it's window cleaning, gutter care, pressure washing, soft washing, gutter guard installation or even solar panel cleaning, Window Hero has the right team of experts, skills and equipment to get the job done right. Window Hero offers routine maintenance and one-time deep cleaning services. Founded in 2005 as Labor Panes, founder Tyler Kirk started the company as a residential window cleaning service before expanding it to offer a variety of exterior cleaning, repair and maintenance services. For more information about Window Hero, please visit https://windowhero.com/.
About HomeFront Brands:
HomeFront Brands empowers entrepreneurs to create thriving franchised residential and commercial property service brands. Driven by an experienced team of franchise executives and rooted in family values, HomeFront Brands helps emerging or established concepts accelerate their growth by delivering enterprise-level solutions to local business owners who aspire to build a dynasty and create generational wealth. By leveraging integrated technology, data-driven intelligence and advanced learning management systems, HomeFront Brands is building a foundation for its brands – Window Hero, The Designery, Temporary Wall Systems, BiltRite Home Inspections, Top Rail Fence and Mozzie Dome – to transform lives through franchise ownership.
For more information about HomeFront Brands' current solutions, new business development, and franchising opportunities, please visit HomeFrontBrands.com.