Leading home healthcare franchise marks 15 years in business
HACKENSACK, N.J. — Executive Care, one of the leading home healthcare franchises, has achieved a remarkable milestone, marking 15 years of operations. According to the Small Business Association, more than half of new businesses fail in the first year, with 30 percent fail within two years, 50 percent fail during the first five years and 66 percent failing within 10 years. 15 years of business is truly a feat of accomplishment.
"We are proud to be providing home healthcare services to our communities for over 15 years," said Lenny Verkhoglaz, founder and CEO of Executive Care. "When we launched, we had a goal to not only meet the growing demand for home healthcare, but to revolutionize the service offerings in the industry. We are thrilled to say this goal has been accomplished and we look forward to propelling the brand to new heights in the coming years."
Since launching in April 2004, Executive Home Care has grown to 22 locations across 10 states. The brand has been featured in the Entrepreneur Franchise 500, among other award recognitions.
Looking ahead, the brand plans to open over 10 locations by the end of 2019, including entrances into the Boston, D.C. metro, Orlando, Denver and Las Vegas markets.
"Our mission has been to provide compassionate, quality home care services to our clients so that they can remain safe and independent in the comfort of their own home," founder and CEO Lenny Verkhoglaz said. "The growth we've experienced over 15 years only motivates us to continue that mission into 2019 and beyond."
Executive Care was founded by Verkhoglaz and his wife, Mila. After caring for an elderly neighbor, Lenny and Mila realized the incredible need for home healthcare services. Today, Executive Home Care offers both medical and non-medical services, including at-home care, personal care, companionship and more.
"The home health care industry is experiencing a 'silver tsunami,' wherein there are more than 10,000 people reaching the age of 65 than there are caregivers to provide them necessary services," Verkhoglaz noted. "With such a high demand, Executive Care strives to continue working with other individuals who are passionate about this booming industry."
Including a franchisee fee (for a territory with a population of 500,000 residents) of $44,900, the initial investment to own and operate an Executive Care office ranges between $99,650 and $169,900. The franchise fee for a second territory is reduced to $35,900 and $29,500 for a third territory.
For more information about Executive Home Care's franchise opportunity, visit http://executivehomecarefranchise.com/.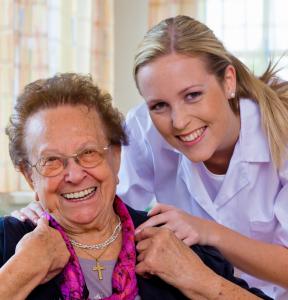 About Executive Care
Founded in 2004 and based in Hackensack, NJ, Executive Care is a full-service home health care company serving seniors, disabled and recovering individuals. The company also provides staffing in hospitals, nursing homes, and other facilities. Recently ranked #264 in Entrepreneur magazine's Annual Franchise 500®, Executive Care continues to expand its national footprint with 22 locations in 10 states. For more information, visit http://executivehomecare.com/.