Elegant French Patisserie Franchise Looks to Add 10 New Locations by 2023
AUSTIN, Texas — Le Macaron French Pastries, an elegant French patisserie that offers guests the finest, authentic French macarons and pastries, recently announced plans to introduce more than 10 locations in targeted communities throughout Texas. The community-focused brand will ignite growth through strategic franchise partnerships and aims to open the new locations within the next five years.
Le Macaron French Pastries currently has more than 50 locations across the nation and is looking to ramp up growth through a selective strategy, focusing on a solid foundation of smart franchise partnerships and tactical site selection. Three Le Macaron French Pastries franchises are currently open in the Houston and San Antonio area, and each of them have found success with a loyal customer following.
"Texas has proven to be the perfect market for our business – the community has been incredibly supportive and the community appreciates the elevated flavors our pastries have to offer," stated Mervis Ruiz, owner of Le Macaron in Cypress. "From the locals to the millions of visitors that flock to the city every year, we've developed a loyal-fan base with our authentic macarons that are unparalleled in the market. I look forward to watching Le Macaron French Pastries further expand its presence throughout Texas as we have become a household name across the State."
The dedicated customer base Le Macaron French Pastries secures makes the brand a reliable franchise concept for those beginning their professional careers or individuals looking to take a new step in their professional journeys. Jonathan Hanley, owner of Le Macaron in Frisco, held executive roles in a variety of multi-national tech and consumer goods companies. Hanley and his two daughters fell in love with the product of Le Macaron when trying it for the first time, and felt there needed to be a location in their own community. Launched only two years ago, Hanley and Le Macaron in Frisco have earned a dedicated customer following and well recognized online presence.
"Our store has seen success in the Frisco community because we are able to create authentic French experiences," said Hanley. "Many other macaron brands have gone out of business, but the quality of Le Macaron's product has helped make the brand a distinguishable one."
Founded by France natives and mother-daughter team Rosalie Guillem and Audrey Saba, Le Macaron French Pastries provides an authentic French experience for Americans nationwide. Upon entering, guests are greeted with brilliant colors and a modern interior complemented with traditional music playing throughout the café. Offering more than 20 flavors of macarons, as well as seasonal flavors, the menu extends to include pastries, gelato, coffee, cakes, éclairs, and more.
Whether in a metropolitan city or municipal town, Le Macaron French Pastries offers a new franchise opportunity which aims to lean into the growing quick-serve and snack brand trend of kiosks, mobile carts, and express locations. As consumers' on-the-go lifestyle continues to accelerate, Le Macaron French Pastries seeks to capitalize on these captive audiences at malls, airports, sporting events, festivals and other gatherings. Franchisees can expect an investment ranging from between $91,750 to $127,000 for a mobile cart and $146,000 to $375,500 for a traditional café. All of Le Macaron French Pastries products are made in the kitchen headquarters, eliminating the need for a full kitchen space. Interested parties should have a strong desire to own a business, as well as a passion for the dessert space and success.
"The thriving economy and diversity of cultures in Texas makes the state an optimal place for Le Macaron French Pastries to grow," said Rosalie Guillem, CEO and co-founder of Le Macaron French Pastries. "We are confident our versatile mobile cart franchise opportunity will give local entrepreneurs the opportunity to invest in the brand while reducing the high overhead costs that are often associated with opening a business. We look forward to working with franchise partners in cities like Austin, El Paso and Dallas to help give all Texas residents access to our little bites of heaven known as macarons."    
For more information on the Le Macaron French Pastries franchise opportunity please visit http://lemacaronfranchise.com/.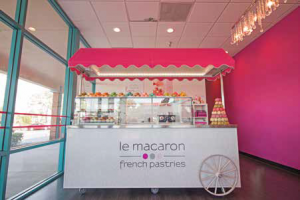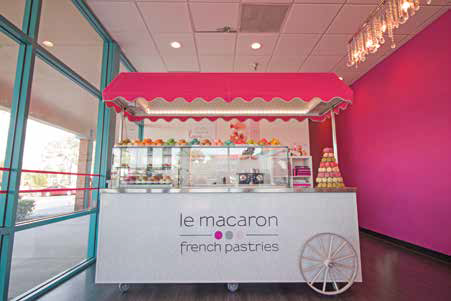 About Le Macaron French Pastries
Founded in 2009 by Rosalie Guillem and her daughter Audrey, Le Macaron French Pastries is an elegant French patisserie that offers guests the finest, authentic French macarons and pastries. Headquartered in Sarasota, Fl., the brand began franchising in 2012 and has since grown to more than 50 locations across the U.S. Le Macaron French Pastries is ranked on Inc. 5,000 2016, #17 on the 2019 Top Emerging Franchise List as well as ranking on the Top 100 Food and Beverage category by Entrepreneur and holds a No. 9 ranking in the baked goods category. For more information, visit http://lemacaron-us.com/.