Neighborly-Backed Franchisor Introduces Innovative, Sustainable Way to Simplify Junk Removal Nationwide. 
SAN FRANCISCO — Junk King, the nation's most eco-friendly junk removal service, has officially announced the nationwide launch of the JK Dumpster Bag, an innovative solution designed to revolutionize junk removal. With a focus on convenience, sustainability and cost-effectiveness, Junk King's JK Dumpster Bags presents individuals and businesses alike with a simple option for eliminating unwanted junk and reclaiming valuable space.
Featuring an impressive capacity of three cubic yards, Junk King's Dumpster Bags can accommodate up to a remarkable 3,000 pounds of junk and clutter. Designed with convenience and affordability in mind, the bags are compact, easy to set up, and readily available for immediate use. Homeowners and businesses in need of flexibility can fill the bag at their leisure and easily schedule a hassle-free pickup, streamlining the junk removal process for any project without the need for excessive equipment.
"We are thrilled to introduce the JK Dumpster Bag, as they offer a professional and efficient solution for customers, especially those who need to tackle smaller projects. We understand that not every job requires a large dumpster, and our JK Dumpster Bag provides the perfect balance of ease and affordability," said Lisa Merry, Brand President of Junk King. "This is a great addition to our range of services and a testament to our commitment to delivering innovative solutions to our valued customers."
The launch of the JK Dumpster Bag represents a significant milestone for Junk King, solidifying their dedication to customer satisfaction and environmental responsibility. Priced at $27.99, these bags are both cost-effective for customers and provide Junk King franchise owners an additional revenue stream to support their bottom line. As part of Neighborly, the world's largest home services company, Junk King is well positioned to leverage the JK Dumpster Bag rollout nationwide.
In addition to the company's professionalism, eco-friendly recycling and award-winning customer service, businesses and residents alike choose Junk King because of the brand's state-of-the-art technology systems that allow customers to schedule a pick-up in real time. With the online booking system all it takes is a few clicks and within a matter of minutes Junk King can be scheduled and the job can be completed.
For more information about Junk King and the JK Dumpster Bag services, please visit https://www.junk-king.com/services/jk-dumpster-bag.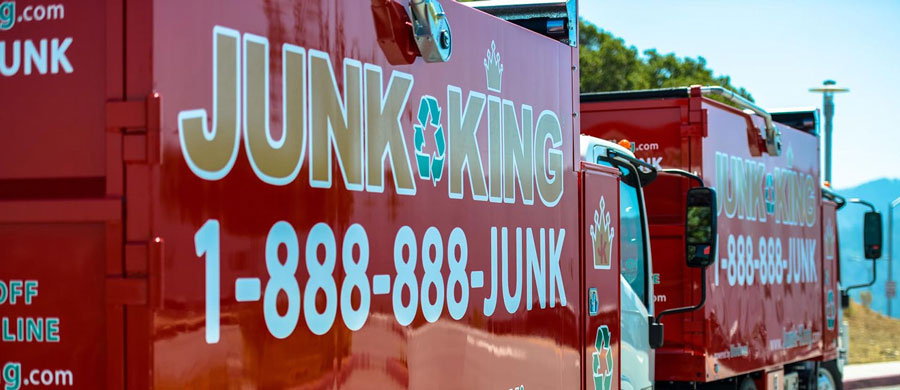 About Junk King
Founded in 2005, Junk King was started by two friends in a two-car garage in San Carlos, California. In 2010, the company began expansion efforts through franchising. Today, Junk King is part of Neighborly, the world's largest home services company, and is the second largest junk removal company in North America with more than 170 locations and nearly 600-plus trucks on the road. Junk King saves consumers time and money by eliminating unwanted clutter quickly and efficiently as well as being best known for its professionalism, advanced technology programs and commitment to recycling, repurposing and reusing materials.
For more information about Junk King, please visit www.junk-king.com/. To inquire about franchise opportunities, visit www.junk-king.com/franchising/.