Leader in Math Learning Centers Continues to Open New Locations Abroad, Projects 20% International Growth for 2023.
LOS ANGELES — Mathnasium Learning Centers, an internationally known franchise with over 1,100 math-tutoring centers worldwide, continues to grow its global footprint by opening four new international centers in Q1, with an additional four slated to open over the next two months. Building on this momentum, company leadership projects international development to grow 20% in 2023, compared to the previous year.
In Q1, Mathnasium proudly opened centers in Al Olaya, Riyadh, Kingdom of Saudi Arabia; Al Juraina, Sharjah, United Arab Emirates; South Kensington, London, United Kingdom; and Al Maqtaa, Abu Dhabi, United Arab Emirates. These openings contribute to the brand's overall global footprint that now spans 70+ centers across eight countries outside of the U.S. and Canada.
The opening of the Riyadh center is a milestone for the brand, marking its entrance into Saudi Arabia, and the first of 45 centers slated to open across Saudi Arabia over the next 10 years. The master franchisee behind this development agreement is Asma Aldahlawi, who was born and raised in the Kingdom of Saudi Arabia and has vast background in business and education.
"I first learned about the Mathnasium franchise opportunity after my son attended the learning center remotely and achieved tremendous improvements in his math abilities," said Aldahlawi. "It has been incredibly rewarding to open our first center, and, in our first two months of operations, we've already exceeded enrollment goals. We have eyes set on continuing to develop in Riyadh and other major cities around the Kingdom."
The opening of Mathnasium's first center in Saudi Arabia comes at a pivotal time, aligning with the Saudi "Vision 2023" program. "Vision 2023" is built around three primary themes: a vibrant society, a thriving economy, and an ambitious nation. Quality education is being placed at the forefront, and Mathnasium looks forward to assisting children across Saudi Arabia to reach their goals.
"We have ambitious international development plans," said Kevin Shen, Chief Development Officer of Mathnasium. "What we've been able to achieve in Q1 sets the tone for what's to come during the rest of the year as we work to partner with sophisticated operators to support the brand and our growth journey. As we continue to grow across the globe, we look forward to empowering even more students through our customized learning plans and proprietary method of teaching."
Company leadership sees vast growth potential across India, the Philippines, Vietnam, Spain, Mexico and certain South American countries, among others — all with the goal of opening the brand's 100th international location in 2024.
Key to Mathnasium's international expansion is its proven 20-year-plus business model and the booming global after-school programs industry. Mathnasium has experienced a record increase in student enrollments as the spike in supplemental education continues to climb.
The brand's impressive performance has earned multiple awards and recognition, most notably ranking No. 80 in Entrepreneur's highly competitive 2023 Franchise 500® ranking, and No. 1 within the math-tutoring category.
With prime territories available, Mathnasium provides franchisees with comprehensive training and support, including an initial training program, ongoing training, a balanced approach between corporate and locally driven marketing to capture the addressable market, and access to proprietary software tools and resources.
"We plan to further our global reach," added Mike Davis, CEO of Mathnasium. "We'll achieve this by working with existing franchisees who are expanding and new multicenter investors who want to join an industry-leading, worldwide network, with a time-tested business model and curriculum."
Mathnasium Learning Centers specialize in math-only tutoring and are committed to providing the world's best instruction. The goal: teach children math in a way that makes sense to them. For decades the Mathnasium Method™ has transformed the way kids learn math — building students' understanding of math concepts through personalized instruction and a customized learning plan — all while producing tremendous results, and helping students achieve their full potential in math and in life.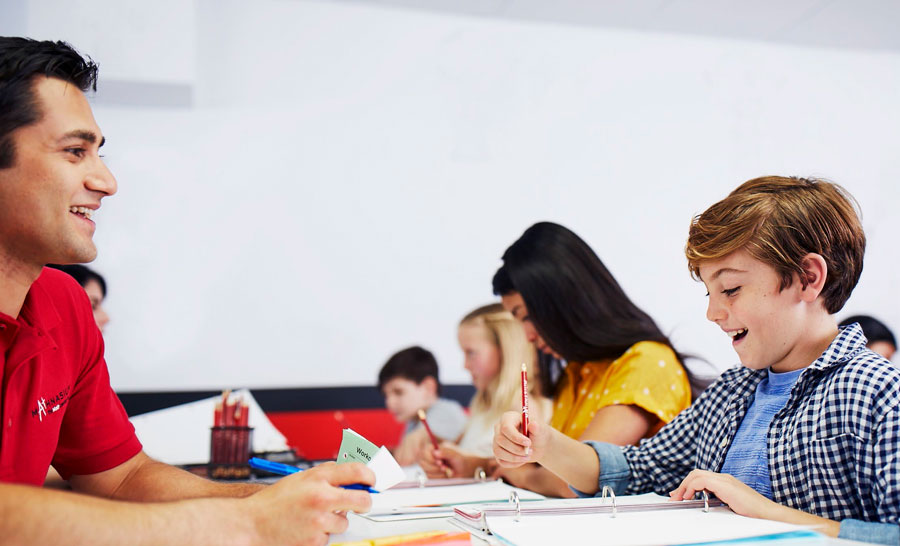 About Mathnasium
Mathnasium Learning Centers is North America's leading math-only supplemental education franchise. Since 2002, the Mathnasium Method™ — the result of decades of hands-on instruction and development — has been transforming the lives of children in grades K-12 by offering comprehensive assessments, fully individualized learning plans, and teaching true math comprehension. With more than 1,100 learning centers worldwide in 10 countries, Mathnasium has been ranked on Entrepreneur Magazine's list of top 500 franchises 16 times since 2004.
For more information on Mathnasium, visit https://www.mathnasium.com/, or visit our social pages on Facebook, Twitter, or Instagram.
For more information about Mathnasium franchise opportunities, visit https://mathnasiumfranchise.com/.