Boutique Rowing Concept Opens First Canadian Studio in Toronto This Summer
IRVINE, Calif. — Following its rapid development in the United States, Row House, a low-impact, high-energy indoor rowing concept, announced today its first international studio development in Canada. As the demand for unique, boutique fitness concepts grows in the country, the brand is well-positioned to succeed with its efficient and effective rowing workouts. The inaugural Canadian location is set to debut in Toronto, and is targeting an opening date in summer 2019.
Currently Row House has 16 locations open and 200 territories sold in the United States and is on track to have over 100 studios open by the end of 2019. The company's extensive domestic growth and success have led Row House to seek out international markets for expansion.
"Demand for this groundbreaking concept is incredibly high right now, so in Canada, we expect to see a trajectory of growth similar to what has occurred in the United States," said Ramon Castillon, President of Row House. "We're confident that our neighbors to the north will fully embrace the camaraderie, inclusivity and total-body results that Row House offers."
The Toronto studio will be owned and operated by local entrepreneurs Steven and Elena Gliosca. Steven has worked in IT for 20 years, developing startups in Eastern Canada, while Elena is the owner of a local portrait photography studio. They were immediately hooked on the Row House workout and strong sense of community after visiting one of the brand's New York locations.
"We are excited to bring the indoor rowing revolution to Canada with our Toronto studio," said Elena. "As our city's busy fitness scene continues to shift toward boutique offerings, we know that the population is going to fall in love with this well-balanced, structured and efficient workout."
Long recognized by the rowing community as one of the most effective forms of full-body exercise, Row House will provide Canadian citizens an alternative fitness regimen that focuses on the safety and longevity of their bodies. The modern studio welcomes members into an atmosphere centered on camaraderie and drive, where participants row in-sync on state-of-the-art Concept2 rowing machines. Used every day by Olympic athletes, cardiac rehab patients, individuals at home and every caliber of rower in-between, the Concept2 is the authentic choice for those looking to marry low-impact cardio and strength training into one workout.
Row House, backed by Xponential Fitness' team with more than 25 years' experience in fitness franchising, is actively seeking qualified and passionate franchise partners to capitalize on the emerging market success. Backed by a wealth of support, infrastructure and knowledge, the total investment fee to open a Row House is $231,600–$333,750. For more information on Row House and the franchising opportunity, visit www.therowhouse.com/franchise.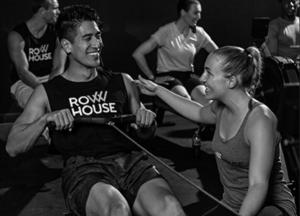 About Row House
Row House is a boutique indoor rowing concept offering a group fitness environment that brings the comradery and drive fostered by the sport of rowing. Founded in NYC in 2014, Row House offers a smart, effective, low-impact and high-energy fitness program meant to preserve the longevity of the body for all fitness levels. Headquartered in Irvine, CA, Row House is backed by Xponential Fitness, a curator of popular boutique fitness brands. To learn more about Row House, visit www.therowhouse.com.