Group assembles 17,000 meals during the 2019 FASTSIGNS® International Convention in Orlando
CARROLLTON, Texas — FASTSIGNS® franchisees and their employees, vendors and FASTSIGNS International, Inc. corporate staff participated in a "FASTSIGNS Community Giveback" by assembling 17,000 meals for local children and their families with the organization, Feeding Children Everywhere. This event occurred during the 2019 FASTSIGNS International Convention held January 16-19 in Orlando, Florida.
"Through our FASTSIGNS Community Giveback Projects, our meeting attendees and vendors come together to support a local cause and make a positive impact in the cities that host our events," said Tracy Lake, Director of Events at FASTSIGNS International, Inc. "We are so grateful for organizations that work to end hunger. With the help of our partners in giving, we were honored to join Feeding Children Everywhere to help make a dent in hunger for Orlando and the surrounding areas."
Under the direction of Feeding Children Everywhere leadership, attendees measured, weighed, packaged and boxed 17,000 meals by forming 14 assembly lines. This was accomplished in 30 minutes during the FASTSIGNS Community Giveback Breakfast with a Purpose event.
"Our partners not only provide meals, they provide hope," said Sarah Davila, Public Relations Manager at Feeding Children Everywhere. "Our event with FASTSIGNS created the opportunity to impact hundreds of families struggling with hunger in Orlando. Together we were able to provide 17,000 meals to children and families in need."
This event was also made possible by the generous support of the FASTSIGNS Community Giveback sponsors including Vista System, swissQprint, peerhatch, Ornamental Post & Panel, Click2Sell, Digital Designed Solutions, Banner Ups, Computerized Cutters, Inc. and N. Glantz & Son.
ABOUT FEEDING CHILDREN EVERYWHERE:
Feeding Children Everywhere, based in Orlando, Florida, is committed to providing healthy meals to those in need, sustainability and making contributions matter. Creating a hunger-free world will be possible if we have an awareness of our impact on the world around us. Feeding Children Everywhere has implemented sustainability goals to reduce their carbon footprint to eliminate the utilization of harmful plastics as well as helping to create self-sufficient and sustainable communities throughout program areas. Financial efficiency and meaningful impact are the pillars of their commitment as they believe that financial transparency combined with a high-energy, tangible impact volunteer experience is the key to a contribution that makes a meaningful difference.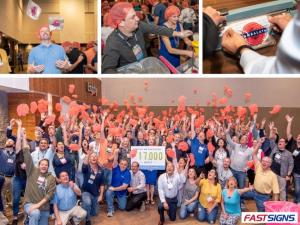 About FASTSIGNS
FASTSIGNS International, Inc. is the global franchisor of FASTSIGNS® sign and graphic centers. We are a business-to-business franchise with over 700 independently owned and operated franchise locations in the United States, Canada, the Caribbean, the United Kingdom, Mexico, the United Arab Emirates, Saudi Arabia, Chile and Australia (where centers operate as SIGNWAVE(R). Locations will be opening in Malta and Spain in 2019.
FASTSIGNS locations provide comprehensive sign and graphic solutions (custom signs and visual graphics) to help businesses and organizations – including manufacturers, schools and universities, retailers, construction companies, healthcare facilities and many other industries – solve their visual communications challenges such as building brand awareness, increasing location "findability", promoting a product or service, helping people find their way around a facility or campus, hosting an event, communicating with employees, improving workflow, meeting safety and compliance regulations, etc.
FASTSIGNS centers provide custom signs and graphics, including architectural and interior décor graphics, fleet vehicle graphics, digital signs and digital signage content, event graphics, displays, banners, posters, ADA signage, safety and identification signs and much more, as well as handle everything from design to installation.
To learn more about sign and visual graphic solutions or to find a location, visit fastsigns.com. Follow the brand on Twitter @FASTSIGNS, on Facebook at facebook.com/FASTSIGNS or on LinkedIn at https://www.linkedin.com/company/fastsigns. Watch a video at https://www.youtube.com/user/OfficialFASTSIGNS.