Local Entrepreneurs to Hold Grand Opening Celebration for Travelers Looking to Book the Perfect Vacation!

RIVERSIDE, Calif. — Planning a vacation has just become a lot easier for families in Riverside with the announcement of a new Expedia Cruises location opening at 301 E. Alessandro Blvd., Ste. 3D in the Mission Grove Plaza Shopping Center.
The location is owned and operated by local entrepreneurs, Abbie Joseph-Harrington and Neal Harrington, who have a team of Vacation Consultants on site, with a total of 32 consultants working to book travelers' perfect vacations.
After living in the Pacific Northwest for their entire lives, the Harringtons moved to Southern California 13 years ago when Abbie's Vacation Ownership sales management position transferred her to Indio in the Coachella Valley. Abbie has spent her career working as a sales representative, sales trainer, sales manager, and sales director as well as owning several small businesses along the way, including two award-winning Allstate Insurance agencies. Before joining Abbie in their Allstate business, Neal taught high school auto shop for many years and after selling their insurance agencies, returned to teaching and currently teaches shop classes at Sherman Indian High School in Riverside.
In 2019, the entrepreneurial couple received a flyer from Expedia Cruises that showcased the brand's franchising opportunity. Attracted to the combination of business ownership and worldwide travel opportunities, Neal and Abbie made the decision to once again go into business for themselves and bring an Expedia Cruises franchise location to their home community. Although they had plans to open the Riverside location in 2020, they were delayed due to the pandemic, but the couple never lost the vision of opening their Center.
"As avid cruisers and travelers ourselves, helping plan the perfect vacation for our clients is something that just makes sense to us," said Abbie, owner of Expedia Cruises in Riverside. "Having the Expedia brand connected to our franchise allows clients to have confidence that we are masters of travel, and we can help make their vacation planning easier." 
To celebrate the grand opening, the location will be hosting an open house on Tuesday, June 6 from 3 p.m. to 6 p.m., where travelers can meet with consultants and travel experts. There will also be an Information Session that highlights Expedia Cruises' exclusive 3 Day Sale with Princess Cruises from 6 p.m. to 7:30 p.m., as well as light refreshments and door prizes. Seating is limited, so RSVP today at (951) 386-0111.
Expedia Cruises – part of the Expedia Group family of brands – offers cruise vacations and full-service travel assistance through its 255+ locations across North America. Customers can choose from numerous vacation possibilities by air, land, and sea, including ocean, river, and expedition cruising, customized trips, coach & rail tours, and all-inclusive resort vacations, to name just a few. Expedia Cruises provides peace of mind for its clients through the brand's travel insurance offerings, as well. And all services are provided at Expedia prices!
In addition to the research and booking features available on their local website, www.expediacruises.com/RiversideCA, Abbie and her team offer personalized vacation consultations in-person, through email, and over the phone, so Expedia Cruises' clients always have the freedom to book when, where, and how they choose!
Expedia Cruises Vacation Consultants are provided with extensive training and marketing support, allowing them to become navigators of spectacular vacation experiences. For more information and to research vacation options, visit www.expediacruises.com/RiversideCA, or call (951) 386-0111.
© 2023 Expedia, Inc., an Expedia Group company. All rights reserved. Expedia and the Expedia Cruises logo are trademarks of Expedia, Inc. All other trademarks are property of their respective owners. CST # 2029030-50 and CST # 20893-43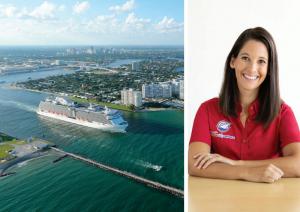 About Expedia Group
Expedia Group powers travel for everyone, everywhere through our global platform. Driven by the core belief that travel is a force for good, we help people experience the world in new ways and build lasting connections. We provide industry-leading technology solutions to fuel partner growth and success, while facilitating memorable experiences for travelers. Expedia Group's family of brands includes: Brand Expedia®, Hotels.com®, Expedia Group™ Partner Solutions, Vrbo®, trivago®, Orbitz®, Travelocity®, Hotwire®, Wotif®, ebookers®, CheapTickets®, Expedia Group™ Media Solutions, Expedia Local Expert®, CarRentals.com™, and Expedia Cruises™.
For more information on Expedia Cruises, visit www.expediafranchise.com.
Expedia is a registered trademark of Expedia, Inc. or its affiliates in the U.S. and/or other countries. Other logos or product and company names mentioned herein may be the property of their respective owners.