Skilled Marketer Rejoins Massage, Skincare & Wellness Franchise to Build on Brand Rejuvenation.

SAN ANTONIO — As Massage Heights experiences record-breaking revenues, peak company Average Unit Volume (AUV) and introduces innovative new services, the flourishing brand's marketing efforts will now be led by Ashley Schuetz, who was recently named as Chief Marketing Officer.
Schuetz formerly served with Massage Heights from 2012 to 2020 in the roles of Field Marketing Manager, Director of Marketing and Vice President of Marketing. While at Massage Heights, Schuetz also led the business development of The Gents Place, a membership-based men's grooming and lifestyle club. Schuetz makes her comeback to Massage Heights following two years of honing her marketing skills as the VP of Marketing at the private-equity owned healthcare company BlueSprig, where she worked to make a positive impact on children with autism.
Marketers are Brand Leaders
Massage Heights President & CEO Susan Boresow said Schuetz's deep understanding and appreciation of the franchising model, her empathy for franchisees and team members, and her acumen around modern, innovative marketing approaches made her the ideal fit to lead Massage Height's marketing strategies.
"As someone who has spent the majority of my career in franchising and many marketing roles, I'm a firm believer some of the best brand leaders sit in the marketing seats," Boresow said. "That's because they have a deep understanding and appreciation of the customer journey. That is Ashley to a tee. With her obvious familiarity of our brand and appreciation of our Culture of Care, we've already seen her jump right in to helping our brand story be shared across various mediums with a new focused energy."
Back & Better than Ever
Schuetz noted some of her broader initial goals are to help maintain consistent record-breaking revenue increases, uphold the highest of brand standards across the system and promote Massage Height's best-in-class member and guest experiences. She's also excited to build local and national awareness of new service rollouts, including a new facial offering in Q2.
"I've never stopped admiring the brand and the impact it has in the lives of our franchisees, members, guests, and massage and skin care therapists," Schuetz said. "There's been a significant amount of innovation and energy devoted to the refreshed company vision, culture and added resources from the expanded leadership team. It's an exciting time to rejoin Massage Heights, with development ramping up and a rejuvenated brand story and experience."
One of the first initiatives Schuetz is building up is the marketing department team, which will be focused on supporting franchisees on their local efforts to further drive brand awareness in each of their communities. "As we maintain a strong brand position on the national level, we know that same positioning has a powerful impact when tailored for our small business owners," added Schuetz.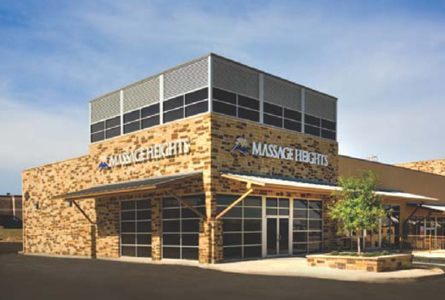 About Massage Heights
The massage franchise started in 2004 and has grown to more than 115 Retreats throughout North America by providing personalized wellness treatment options through therapeutic massage and skincare services. The Massage Heights franchise is dedicated to elevating the lives of others by providing Members and Guests with professional, affordable and resort-quality massage, skincare and wellness services. For more information about Massage Heights and its franchise opportunities, please visit MassageHeightsFranchise.com.