Greater Sarasota Chamber of Commerce small business award recognizes the franchise's growth, market service and promising future. 
SARASOTA, Fla. — Town Square Sarasota, an adult daycare and memory care center, is the winner of the Rising Star Award, an annual award from the Greater Sarasota Chamber of Commerce recognizing best new Small Businesses. Part of a national reminiscence therapy franchise model, Town Square Sarasota opened February 2022, serving individuals with Alzheimer's or related dementias.
The Sarasota Chamber 2023 Frank G. Berlin, Sr. Small Business Awards celebrates companies that have exceeded targets for growth and financial performance; best demonstrated an understanding of their competitors, customers, and their markets; and have the foundations in place for continued success. Awards were presented at a luncheon for 600.
"The Town Square Sarasota team is humbled to receive the Rising Star Award as the best new Small Business by the Greater Sarasota Chamber," says Michael Finn, who along with his wife Sherri owns and operates the center. "We're proud of the work we do daily helping individuals affected by Alzheimer's and dementia – and their families and caregivers – and especially want to thank Center Director Jill Grinnell-Blehinger and our incredible staff for their ongoing commitment to care, kindness and love, which makes all of this work."
He also notes that Grinnell-Blehinger was separately chosen by the Chamber as part of its leadership program. The Sarasota Chamber leadership program – whose past graduates lead companies all over the area – creates awareness of the community and its needs by examining how leadership in the historical, economic, governmental and cultural segments work together to advance Sarasota County.
"This event today is hands down a favorite event that we do every year," says Sarasota Chamber CEO & President Heather Kasten, citing the organization's mission of supporting businesses in a competitive market, helping them grow and creating an attractive business climate. A short video from the event can be found here.
Town Square Sarasota is a 12,000-square-foot 1950s-themed Day Care Center built for seniors affected by aging, Alzheimer's and other dementias. The interior looks like a 50s main street with a diner, theater, city hall, park, library and more; guests move through these storefronts with the aid of highly-trained care staff, and participate in programming in each storefront, built to engage and entertain. Seniors enjoy socialization and programming while families and caregivers get a much-needed respite.
Michael and Sherri Finn are developing three additional Town Square locations, from Sarasota to Ft Myers. Nearby, Town Square University Parkway, on the border of Bradenton and Sarasota, opened in March of this year.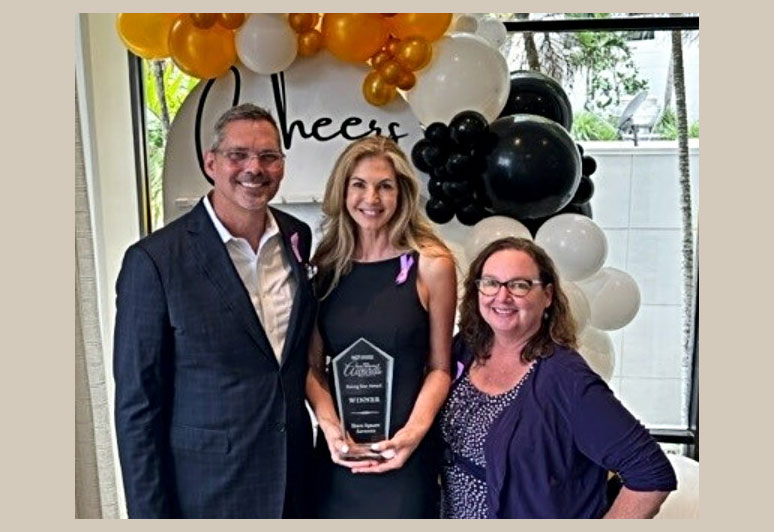 Other Town Square news
Town Square Sandy Springs, in Metro Atlanta, hosted an Alzheimer's and Brain Health Conference in June as part of that month's national designation for Alzheimer's and Brain Awareness. That center's owners and director and the directors and owners of other Town Square locations continue to serve as resources for media on topics ranging from memory, aging, caregiving and more. Meanwhile, Town Square corporate says, in keeping with its growth and expansion, will have several corporate announcements coming soon.
Town Square provides a safe, comforting and immersive environment where members – as Town Square day guests are called – spend the day while caretakers take a break. Members take part in a range of engaging activities facilitated by highly qualified Program Assistants. A product of the renowned George G. Glenner Centers, Town Square's proprietary programming evokes a time when seniors were teens or young adults. Town Square also created proprietary software exclusive to its franchise owners. About franchising with Town Square: email Lori McCauley, 612-816-9300.