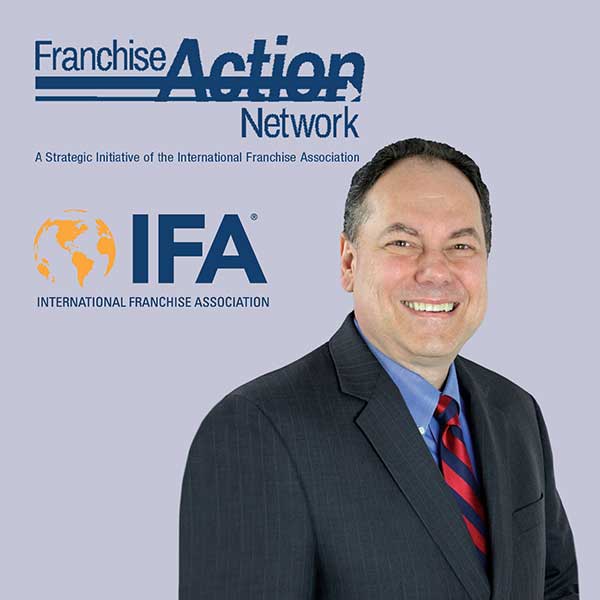 Robert Cresanti, president and CEO of the International Franchise Association (IFA), wants to help those who are striving and struggling to achieve success for themselves and their families. By Rose Mango
"Franchising is the American Dream Factory." – Robert Cresanti
IFA leader Robert Cresanti tells why franchising is THE game changer
Robert Cresanti, president and CEO of the International Franchise Association (IFA), is at the forefront of all things franchising. But Cresanti, who had been working as a lawyer and lobbyist for several Fortune 500 companies, says he didn't decide to accept the position without giving the matter tremendous thought.
While considering the IFA role, Cresanti took a road trip with his 70-year-old father. On the drive to Florida, they passed numerous franchises. "These were franchises owned by families and people building their piece of the American Dream," Cresanti says. He then realized what he wanted to do, and that was the moment when he told his father he was taking a different direction in his career. "I've changed perspective," he said to his dad. "I've changed my latitude and attitude. I want to help these businesses. I want to help those who are striving and struggling to achieve success for themselves and their families."
Cresanti accepted the CEO position with the IFA in September 2015. Today he presides over the franchise industry, bringing his seasoned judgment and leadership to all franchises. He passionately explains his devotion to franchising and why he feels it is a gateway to the American Dream.
What drew you to the CEO seat with the IFA?
When approached by the IFA, I was already speaking with a few other companies contemplating which way I wanted to go in my next chapter. I spoke with the former IFA CEO (Steve Caldeira). His passion and exuberance for franchising were palpable, and the way he talked about it with such glowing terms, he opened my eyes to franchising and all the possibilities.
What have you observed when you are speaking with franchise leaders around the country?
There is such a charitable spirit among franchisors and franchisees. The willingness to share information is amazing. They share best practices and information they've learned. People can't imagine the amount of help and support that is available to companies that are just beginning to grow as emerging franchise concepts. There isn't anything like it, anywhere. They share information to help one another avoid making the same mistakes they've made. I have seen people who own 800 to 1,000 units mentoring the emerging franchisor trying to grow from 10 to 50 units. These are the people we at the IFA work for, the people I represent, the people I lobby for.
I've never been surer of anything in my entire career than leading the IFA. The franchise business model feels like home to me.
What makes franchising a game changer?
Franchising as a whole is THE game changer, allowing anyone, no matter what their background is, to enter business ownership. Franchising is the American Dream factory. Not everyone has a master's degree or business management experience, but they if have the drive, determination and desire to own their own business, then franchising is for them. Franchising is held to a higher standard, better quality, and it is created to assure consistency of products or service in every location they are in. Franchising is often referred to as serial entrepreneurship.
You don't have to know how to make yogurt to own a yogurt shop; you can buy a franchise that will teach you how. It provides a solid and proven business model that is already up and running in other areas, bypassing the learning curve. It increases one's chances to do it well and achieve success, hence the gateway to business ownership.
What do you want franchises to know for 2020?
Franchises need to find their voice in 2020. Their voices are important to us. Franchises need to become knowledgeable of their members of Congress and state representatives as well as what we do here at the IFA. We are leaning on the incredible camaraderie of franchising as a whole and depending on franchises to speak up and make their voices heard.
– Rose Mango