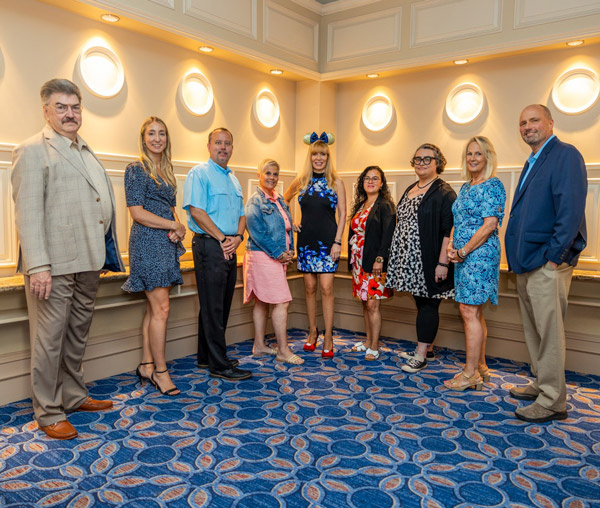 In honor of this month's theme of Community Focused franchises, we wanted to highlight the FranServe Executive Team 'community.' By Nancy E. Williams
In honor of this month's theme of Community Focused franchises, we wanted to highlight the FranServe Executive Team 'community.' Oxford Languages defines a community as "a feeling of fellowship with others, as a result of sharing common attitudes, interests and goals." Alesia Visconti, President and CEO of FranServe, affectionately refers to the FranServe Executive Team as her "Dream Team."
Visconti explained: "The synergy amongst the team members is… well, fran-tastic! I've led many executive teams throughout my career, and having the right people in the right positions at the right time is a bit like crafting the perfect recipe. It's not easy, but when you actually have it, everyone feels it! That's what we have now!" 
Members of the FranServe Executive Team shared why they feel the same:
Describe how the FranServe Executive Team feels like a community to you. 
"As a long-term 'corporate guy.' I see the highly supportive FranServe community/culture as refreshing and a key competitive advantage. The entire organization (from the Executive Team to the consultant base) is focused on supporting each other in achieving goals/success. This is entirely different than corporate culture where it is 'everyone for themselves' and often cut-throat."
Jerry Rieder, CAFC, CFC,
Chief Operating Officer
"I love how we follow Alesia's passion for serving the veteran community. FranServe makes an impact with veterans by what we do and where we give. Working with over 700 brands, we encourage them to offer special discounts to those who served. FranServe also joins the efforts of the International Franchise Association (IFA) by being part of their national veteran's initiative – VetFran. Our corporate philanthropic efforts are spent assisting veterans in need of service dogs through Service Dogs of America. Together we impact this group and are proud to contribute."
Joan Winchester, CAFC, CFC,
Senior VP Franchise Expansion
"We all share the same core values: (1) Integrity is Everything, (2) Grow or Die and (3) Teamwork Gets Results. Given we share these common values, we can operate with smooth execution to protect the interests of our consultants and franchise partners."
Don Clayton, CAFC, CFC,
VP of Talent Acquisition
How does the FranServe Executive Team community influence FranServe's overall business?
"We work hard and play harder… we promote quality of life and the entrepreneurial spirit. We celebrate our growth and individual achievements. Our growth is reflective of our support of each other."
David Craghead, CAFC, CFC,
Chief Franchise Expansion Officer
"Our executive team's influence on FranServe's business stems from our unwavering commitment to excellence, driven by pure passion and compassion. We consistently show up as the best versions of ourselves, ensuring that every encounter is approached with genuine intentions for the greater good of our clients and their businesses. As a result, FranServe has achieved unparalleled success in its industry."
Lina Heredia,
Administrative Service Manager
Nancy E. Williams