UNIVERSITY PARK, FL—RestaurantNews.com
First Watch, the popular breakfast, brunch and lunch concept, announced that it has partnered with Mujeres en Café (Women in Coffee) – an organization of female coffee growers in the Huila department of Colombia, to launch its new coffee program. The new coffee, dubbed Project Sunrise, is now available in First Watch restaurants nationwide and will provide much-needed support to these women-owned farms.
Traditionally, the coffee growing industry in Colombia has been male-dominated. Due to the country's decades-long civil conflict, many women in Huila lost their husbands, brothers and sons and have now taken over the family business. Together, they formed Mujeres en Café and embarked on a mission to create sustainable businesses that elevate the lives of their families and improve conditions in their rural communities.
The high-quality beans these women grow and harvest in Huila are exported to the U.S. and roasted by the experts at Royal Cup Coffee in Birmingham, Alabama, exclusively for First Watch. The restaurant company pays a premium for these single-origin beans, which will be relayed back to the women farmers in Huila to help improve their quality of life and help facilitate their operations.
"During our visit to Huila, we met groups of women in several villages who have dedicated their lives to producing great coffee. They are proud of their work and were eager to welcome us into their homes, walk us through their farms and share their stories," said Shane Schaibly, corporate chef and VP of culinary strategy for First Watch. "Each year, we serve more than 8 million cups of coffee in our restaurants. Through Project Sunrise, that gives us 8 million incredible opportunities to support these hard-working women and their families in Huila in 2018."
Schaibly spent months working with coffee growers and roasters to develop a coffee that would complement the complex dishes, flavors and textures found on the First Watch menu. First Watch's new Project Sunrise coffee fits the bill – it features a medium body, with hints of cherry, orange, toasted nuts, honey, milk chocolate and caramel, which makes for an ideal complement to First Watch's variety of fresh breakfast, brunch and lunch dishes.
For more information on First Watch's Project Sunrise, visit blog.firstwatch.com.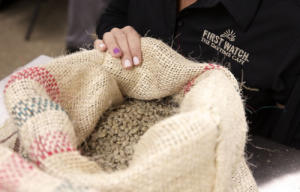 About First Watch
First Watch specializes in award-winning, made-to-order Breakfast, Brunch and Lunch. A recipient of more than 200 "Best Breakfast" and "Best Brunch" accolades, First Watch offers traditional favorites, such as omelets, pancakes, sandwiches and salads, and unique specialty items like Quinoa Power Bowls, Avocado Toast and the Chickichanga. First Watch was recognized as one of Nation's Restaurant News' 2017 Second 100 restaurant brands, and was named the 2016 top Family Dining restaurant by Consumer Reports and a 2015 Top Consumer Pick by Nation's Restaurant News. First Watch is the largest and fastest-growing daytime-only restaurant concept in the United States with more than 300 restaurants in 27 states, including more than 230 First Watch restaurants, 75 The Egg & I restaurants and one Bread & Company restaurant in Nashville. For more information, visit firstwatch.com.
Contact:
Eleni Kouvatsos
941-907-9800 ext. 218