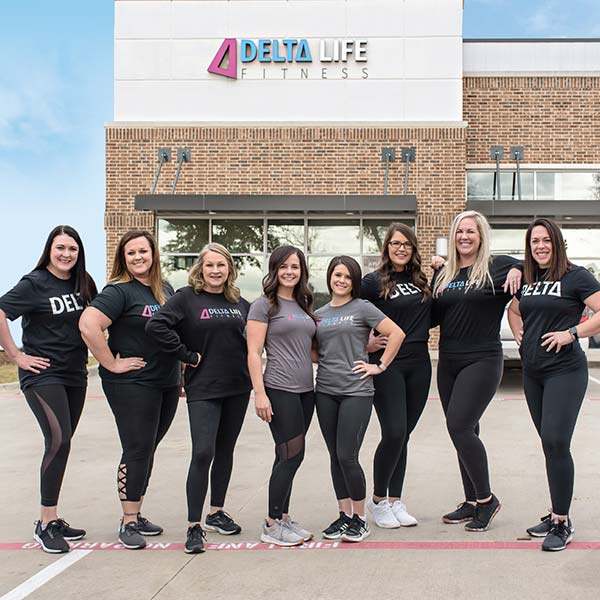 Delta Life Fitness has evolved into one of the hottest fitness franchise concepts of 2019. By Rose Mango
Josh & Christin Cherry and Robby & Cassie Marlow founded Delta Life Fitness, a women's centric fitness concept, in 2009. What first started in parks with cub scout moms, friends and family, has evolved into one of the hottest fitness franchise concepts of 2019.
Delta Life Fitness received several national franchise awards this year and was ranked in the Houston Business Journal as #20 on the Houston's Fastest Growing Privately Held Companies list.
Delta Life Fitness is a boutique fitness concept specifically designed to work with a woman's metabolism to achieve maximize results in as little as thirty minutes. Delta Life Fitness is not your ordinary women's gym; it's the only boutique fitness franchise that serves women, conducts 30 minute "Tone and Torch" workouts, and provides childcare to its patrons. They've developed a strategically targeted program that works with women's bodies and results in high success.
By incorporating the science of female metabolism, Delta Life Fitness's training is designed to maintain a target zone that stimulates metabolism and increases energy. Led by skilled trainers, participants use a variety of equipment, including TRX suspension training, free weights, and battle ropes, burning an hour's worth of calories in just half the time. The results are more energy, visible toning, weight loss, and extra calorie burn post-workout.
2019 put Delta Life Fitness on the map for many long-time industry experts. Delta Life Fitness is not just another boutique fitness concept going after the same clientele that all other brands are focused on. They really know who they serve. This is obvious even from their site selection criteria. They like to open studios out in the suburbs, where all the moms are. Knowing their ideal client helps them craft better messaging, find better sites, and do better workouts.
Delta Life Fitness is making quite a ripple in the fitness industry as they are popping up everywhere all across the United States with over 50 locations open or being developed in 9 different states. The brand expanded by over 38% in 2018, and by 94% in 2019. Delta Life Fitness was listed as a top 100 Game-Changing brand by Franchise Dictionary Magazine for the second year in a row and was spotlighted three different times in Club Industry Magazine in 2019.
The swift growth is in part due to them understanding their niche and by focusing on meaningful growth. Delta Life Fitness franchisees express with exuberance their gratitude for an opportunity to partner with a company that knows who they serve and has a system developed to help them better than anyone else currently in the space.
If you're looking to join a franchise that is changing the fitness industry for women, you have found it in Delta Life Fitness. But don't wait! Prime territories are available now but going quickly.
Contact Delta Life Fitness today for more information: www.deltalifefitness.com.
– Rose Mango
"The leadership team at Delta Fitness are at the right place at the right time to ensure Delta Life becomes the next BIG thing in boutique fitness! ABC Financial Services is proud to service them and look forward to assisting and helping their franchisees for years to come!"
Paul Schaller, VP, ABC Financial Services. LLC
"There is nothing else like this – this is more than a financial investment. You are changing women's lives every day – and by doing that, you are making better families and a better community."
Jessica Hollaway, Owner, Delta Life Fitness, Conroe, TX