The eco- and beginner-friendly studio looks to double footprint & bring accessible yoga nationwide through franchise opportunity
LAWRENCEVILLE, N.J. — Honor Yoga, a leader in the more than $16 billion yoga industry, is doubling its footprint and stretching its presence across the United States. Known for being a sustainable community of healing, offering an approachable, loving environment to honor your mind, body and self through the practice of yoga, Honor Yoga has announced national expansion plans via franchising.
The number of American yoga practitioners has grown by more than 50 percent in the past four years, with 34 percent of Americans reporting that they are likely to participate in yoga within the next year. Created by fitness industry veteran and 500-hour certified yoga instructor, Maria Turco, Honor Yoga seeks to disrupt the popular model of yoga studios by providing yoga to all. Tired of box-like studios, Turco sought to fill the gap for an accessible yoga studio and further designed her locations with eco-friendliness in mind.
"Yoga is the most popular alternative health approach in the United States," said Turco, founder and chief yogini of Honor Yoga. "With approximately 37 million adults practicing, that number is projected to continue growing to more than 55 million by 2020. With yoga's increasing popularity, Honor Yoga emerges as a differentiator from other studios in that it provides a welcoming space for every yogi. We are not centered as a fitness brand, rather we focus on the holistic wellness approach through the practice of yoga and meditation. From our class offerings to our non-profit arm, Honor Yoga Foundation, we make yoga accessible to all, which in the current industry space is revolutionary."
To augment its growth, Honor Yoga launched its franchise opportunity in partnership with multi-unit emerging brand investor Anthony Polazzi of AP Franchised Concepts, LLC. The brand is looking for passionate yogis and business professionals looking to cultivate healthier and happier communities. Including a franchisee fee of $49,108, due upon signing, the total investment to own a studio is $146,608–$270,608. Each studio is approximately 2,400-3,400 square feet and employs 10 to 15 full- and part-time employees. For more information on the franchise opportunity, visit http://www.franchise.honoryoga.com/.
Honor Yoga launched in 2013 and offers a yoga class for everyone, including gentle, roots, calm & strong, slow flow, flow, power flow, meditation and aerial, among others. Members can attend classes in any of the 10 locations currently open in New Jersey, and can access classes by streaming online. In 2019, more communities will be able to experience Honor Yoga as the brand gears up to open 25 additional studios, at least 15 of which will open in the coming months. The brand plans to open 100 studios by 2023.
In addition to its core classes, Honor Yoga hosts retreats, teacher trainings and a variety of workshops throughout the year, many in partnership with the Honor Yoga Foundation. The Honor Yoga Foundation arm fosters peace and healing in communities by providing yoga-related wellness programs to under-served and at-risk populations, funding research of yoga's benefits and supporting like-minded charitable organizations. The foundation is a core component of the Honor Yoga community, one to which Turco donates a third of her salary.
"Honor Yoga strives to exemplify what a life full of yoga means. Yoga connects your mind, body and soul internally, but also connects you to the greater universe," Turco noted. "Living honorably means using yoga for good and giving back to those communities who need it the most."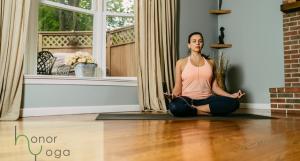 About Honor Yoga
Founded in 2013 by health and wellness veteran Maria Turco, and franchising since 2016, Honor Yoga is an eco-and beginner-friendly yoga studio and community that welcomes and nourishes every yogi through their practice. Revolutionizing the yoga industry, Honor Yoga offers a variety of classes, retreats, workshops and hosts a non-profit arm, Honor Yoga Foundation. With 10 locations open and operating in New Jersey, the brand has 25 additional locations in various stages of development in North Carolina, California, California, Florida, Ohio, Indiana and New Jersey. For more information, visit http://www.honoryoga.com/.