Leading home painting franchise anticipates continued brand expansion across the nation in the upcoming year.

MIAMI — Spray-Net, the leading home-improvement franchise that is changing the way homeowners renovate, has seen impressive growth in its U.S. franchise opportunity over the past 18 months. The brand, which was recently recognized in Entrepreneur Magazine's Franchise 500® as one of America's fastest-growing franchises, is eager to continue providing customers with the most cost-effective way to modernize their properties by offering convenient, affordable, and durable home renovation options.
Spray-Net was originally founded in 2010 by Carmelo Marsala, who at the time was working as a conventional painter. While working one of his jobs, a customer asked Carmelo if he would be able to paint his vinyl windows. Limited by the quality of off-the-shelf paints available to him, and the results he knew they would produce, he, unfortunately, had to turn the customer down. This left Carmelo thinking, and he soon began drafting plans to bring the high-quality painting technologies used in factories to outside jobs – allowing him to offer services not seen by any other conventional painting companies. 13 years later, Spray-Net has grown to a booming franchise with over 130 locations, and an increasing list of patented technologies, services, and proprietary chemistries.
"When I first began building Spray-Net, I asked myself 'how can we bring factory-quality results to homeowners?'" said Marsala. Using custom chemistry, Spray-Net developed smarter coatings and has now made it possible for homeowners to paint surfaces that are not traditionally painted on site, all within as little as a day. "Over the past 13 years, we've adapted our technology to various types of exterior surfaces as well as kitchen cabinets, all of which provide clients with the benefits of replacement for a fraction of the time, mess, and cost – and are backed by our 15-year guarantee."
Since Spray-Net began franchising in 2014, the brand has grown to over 130 locations across the United States and Canada, with another 50 locations projected throughout 2023. Thanks to the brand's proprietary technology, relatively low cost of entry, and lack of direct competition, the franchising opportunity has exploded, producing successful franchisees and happy customers across the country.
"The success we have seen over the past eight years is amazing," added Marsala. "Our team's tireless efforts to innovate our products and services, stay ahead of the curve with the latest technologies, and support our incredible franchisees have been integral to our ongoing success. We are so excited to continue to grow and thrive in the coming months, and cannot wait to see how far Spray-Net will go."
With the hands-on training and support the brand offers, they have produced an impressive roster of franchisees who share Spray-Net's original goal of offering a unique service that provides real value to homeowners. As a result, the brand allows homeowners to accomplish their interior and exterior renovation goals while creating a sustainable and eco-friendly way for homeowners to boost the value of their home – all without the hefty price tag.
For more information on Spray-Net's franchising opportunities, please visit https://www.spraynetfranchise.com/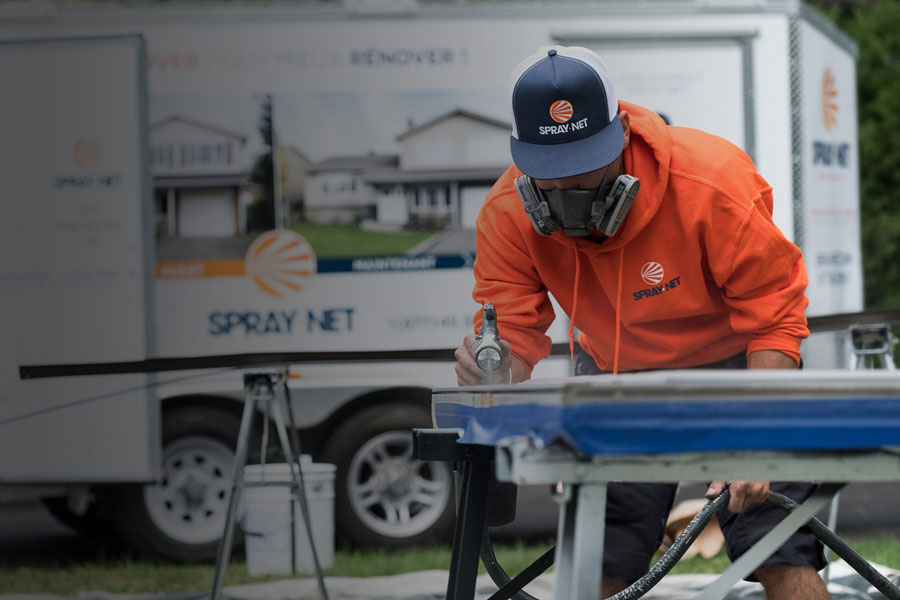 About Spray-Net
With over 25,000 homes revamped, Spray-Net is the home-improvement franchise that's changing the way homeowners renovate. Thanks to its patented weather-adjustable paint process and proprietary chemistry, Spray-Net delivers a like-new, durable factory finish that is quick & cost-effective, and provides all the benefits of replacement while maintaining the speed and affordability of painting, the best of both worlds! Spray-Net is the most cost-effective way to modernize a home and boost property value. The brand has over 130 locations with another 50 anticipated this year. For more information on Spray-Net, please visit https://www.spray-net.com/ or https://www.spraynetfranchise.com/