Premier Health and Wellness Day Spa Entering New Development Era Bringing Affordable Luxury and Resort-Like Experiences Closer to Home
DENVER — For years, Spavia has been reinventing the neighborhood day spa experience, delivering result-driven treatments to help guests relax, recenter and renew.
Guided by a vision to make a positive difference in the world one guest at a time, the premier health and wellness day spa has earned tremendous acclaim since its inception in 2005, for offering a blend of affordable luxury amenities with a world-class environment.
Today, the high-end day spa retailer hosts more than 50 locations stretching across vibrant cities such as Denver, Los Angeles, Chicago, Dallas, Boston and Orlando. As the brand continues to grow nationwide, Spavia is entering an ambitious franchise development era with goals to reach 200 locations in the next decade. Leveraging its scalability and leading position in the day spa industry, Spavia is placing an emphasis on additional major metropolitan areas across the country with an initial focus on cities throughout Arizona and Texas. Development plans for eight new day spas are already underway as aspiring franchisees continue to invest in a concept that's unmatched in the luxury spa space.
In conjunction with the Spavia team's commitment to growth is their dedication to making a positive difference within the communities they operate. Through the Spavia Cares program, every local day spa actively partners with individuals and organizations, giving back through a variety of fundraising, volunteering and donation efforts to support community development, education, health, human and civil rights, and animal welfare. By making these meaningful contributions, Spavia ensures that each guest, team member and franchise owner has a profound sense of fulfillment that comes from doing good for others.
"As we take this pivotal step in our growth journey, we're not just expanding…we're continuing our legacy of offering affordable luxury with a pathway to a successful wellness journey for our guests," said CEO and Founder of Spavia Marty Langenderfer, who created the brand alongside his wife Allison, Spavia President. "We have a relentless focus on providing an exceptional experience with operational excellence, and franchisees are drawn to that unwavering commitment, as well as our philanthropic culture. We're proud to welcome fresh faces to our franchise family and continue helping our existing franchisees develop into new territories, all while having a positive ripple effect in our communities."
To reinforce its national franchise growth efforts, Spavia is continuing to invest in its C-suite by welcoming seasoned marketing and operations executives who will add to the leadership team's franchise expertise and combined 100 years of day spa experience. Similarly, the brand is debuting new skincare treatments such as Dermaflash, maintaining its reputation for providing result-driven, yet trending treatments to have guests leave relaxed and renewed. In the months to come, Spavia will launch an additional, innovative spa concept targeting Gen Z and Millennials. The smaller footprint SWAY by Spavia will offer a revolutionary new design, lower investment opportunity tailored to entrepreneurs wanting to break into the lucrative health and wellness space.
Spavia offers guests a rich assortment of treatments and the chance to customize spa experiences with serenity aesthetics carried throughout the day spa. Complementing this experience, Spavia provides a range of retail products that support philanthropic endeavors, all while offering a diverse pricing structure to cater to a broad audience.
Strategically positioned within local communities, guests can indulge in monthly treatments, luxuriate in plush robes, find tranquility in retreat spaces, or shop top-tier retail offerings, creating the ultimate destination for those seeking relaxation, recentering and renewal conveniently within reach.
"Our extensive expertise in guest experience and branding ensures that every Spavia location embodies our core values, making us the top choice for those seeking relaxation, recentering and renewal within their local communities," said Allison. "When you step through Spavia's doors, you're not just entering a day spa; you're immersing yourself into a world of luxury and well-being, providing result-driven treatments that are affordable and accessible to all on a daily basis."
Aside from exceptional guest experiences, the Spavia standards of excellence for franchisees come from a national training team with expertise in day spa treatments, guest care, team training, marketing, construction and personal development. Every Spavia location adheres to the same standards of excellence to give guests a 5-star experience.
The ideal candidate for a Spavia franchise is someone who embodies a passion for wellness and a commitment in delivering exceptional guest experiences. This individual should be a forward-thinker and possess strong people skills and management experience, as they will be at the forefront of nurturing a culture that fosters relaxation and well-being. With a strong belief in the power of accessible luxury, Spavia franchisees are positioned to flourish within a supportive network of like-minded individuals who strive to make a meaningful difference in their community.
For more information on franchising with Spavia, please visit spaviafranchise.com.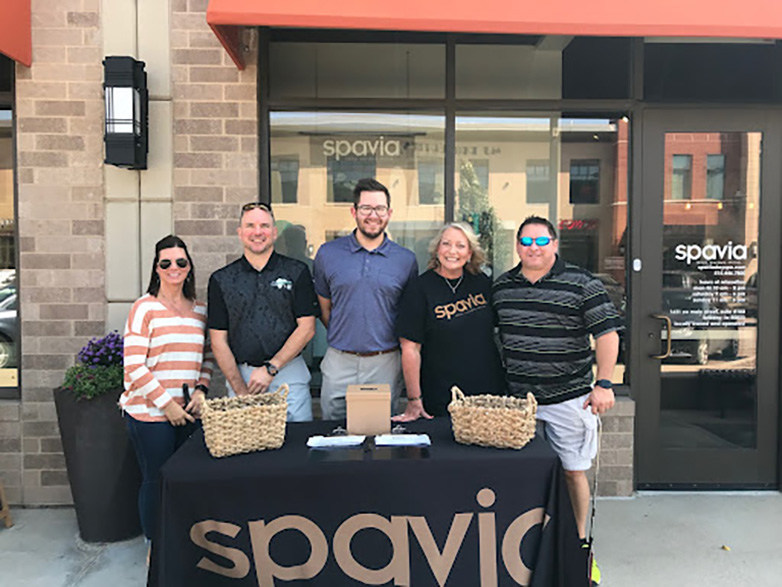 ABOUT SPAVIA
The first Spavia opened its doors in 2005 in Denver, CO, with a mission of making a positive difference in the world, one guest at a time and delivering a luxurious spa experience at an affordable price. Spavia locations provide a variety of massage treatments, skin care treatments, body wraps, waxing, lash extensions, make-up, and an opportunity to celebrate with a spalebration™ — all in a relaxing and tranquil setting that allows guests to relax, recenter and renew. In late 2023, Spavia opened its 55th location, with an additional 90 locations under development. The 55 day spas are currently open in 23 states, reinforcing Spavia's commitment to providing affordable luxury and promoting relaxation, renewing and recentering as core values.
Spavia doesn't stop at relaxation; it extends to making a positive impact. The Spavia Cares program reflects the brand's dedication to giving back to communities and helping others by contributing to fundraisers, volunteering, hosting events and providing chair massages for local events or organizations. Spavia is there to be a part of each and every community, ensuring that guests leave with a sense of fulfillment that comes from contributing to the well-being of others.