CORAL SPRINGS, Fla. — 2023 has been a year of incredible growth and Cruise Planners has joined the ranks of South Florida Business Journal's Fast 50 at #10. This ranking recognizes the region's fastest-growing private companies. Cruise Planners was selected based on its growth in the past three years. Cruise Planners saw annual sales growth from $545 million in 2022 to over $845 million in 2023, which also landed them on Travel Weekly's Power List at #20. Cruise Planners has contributed to the growth of South Florida not only by employment efforts but more importantly by bringing thousands of tourists to South Florida through their network of 2,500 franchisees planning memorable vacations.
The company was honored by SFBJ on Aug. 24th at an awards program at Gulfstream Park – Sport of Kings in Hallandale Beach with COO Theresa Scalzitti, CIO Brian Shultz, VP of Technology Phill Guerra, Director of Operations Diana Riel, VP of Finance Nikki Hetzel, VP of Operations Jeff Sherota, Director of Destination Sales Laura Blanco, and Creative Resources Senior Manager Andrew Shultz on hand to accept the award on behalf of the company.
"Cruise Planners has persevered through some of the hardest years in travel. To accomplish this amazing growth and to be recognized by the South Florida Business Journal is a true honor," said Michelle Fee, CEO and Founder of Cruise Planners. "This honor solidifies the hard work of our team and our incredible network of travel advisors throughout the U.S."
To qualify for the honor, companies have to be privately held, be headquartered in the tri-county region, generate at least $1 million in annual revenue, and be in business at least three years. The ceremony featured a spirited reveal of the Top 25 companies with more than $25 million in annual revenue and the Top 25 with revenue under $25 million. Companies were ranked by revenue percentage growth from 2020 to 2022.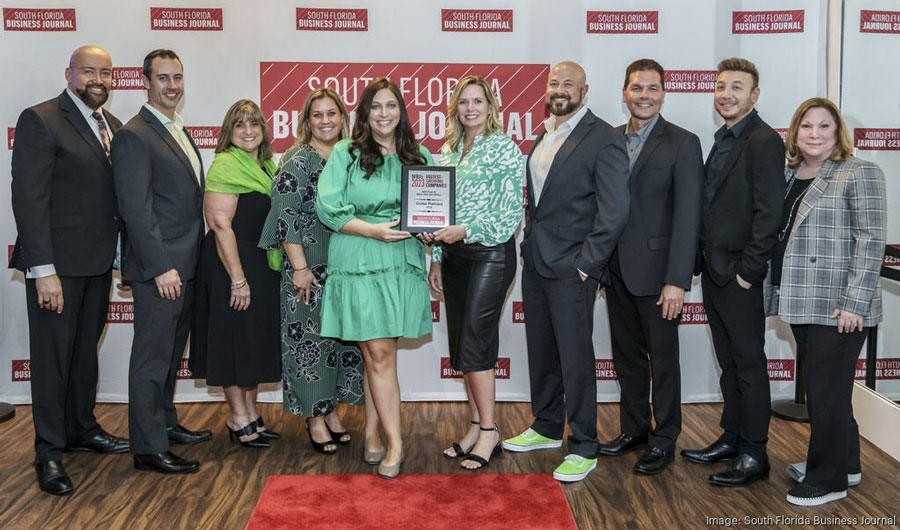 About Cruise Planners
Cruise Planners was founded in 1994 and is the nation's largest home-based travel agent franchise network. As a leader in the travel franchise industry, Cruise Planners positions a nation-wide network of 2,500 franchise owners for success by providing award-winning and innovative marketing programs, proprietary and cutting-edge booking and technology tools, as well as professional development and travel agent training with the industry's top executives. The company continues to be an industry leader and was named the No.1 travel franchise by Entrepreneur magazine for 18 consecutive years and awarded by Franchise Business Review as "Best-In-Category" for 3 years and ranked #20 on Travel Weekly's 2023 Power List.
Franchise Business Review also ranked Cruise Planners #3 OVERALL on their list of Top 200 Franchises of 2022. Cruise Planners was recently featured in Entrepreneur as one of the top 30 franchise innovators in technology, has been consistently named as one of the Top Women-Owned Businesses by the South Florida Business Journal, is on the Inc. 5000 list as one of the fastest-growing private companies in America, and was recognized as one of the Top Workplaces by the Sun Sentinel.
Visit our website, www.cruiseplanners.com, for more information or to view the complete list of awards and honors. For those interested in becoming a franchise owner, please visit https://www.cruiseplannersfranchise.com/.