CHICAGO — The Barre Code, a national boutique fitness franchise headquartered in Chicago, IL, has partnered with Chicago-based SweatWorking to extend its offerings to include "The Barre Code On-Demand." With this digital program, The Barre Code is further adapting to its clients' busy lifestyles, so they can truly "live by The Barre Code."
Co-founders Ariana Chernin and Jillian Lorenz introduced The Barre Code to Chicago in 2010. The fitness duo has continued to provide a best-in-class fitness program and an empowering community nationwide with over 50 studios.
"We understand that our clients are real women with busy lives, and a studio-only program may not work for them all the time, so we've incorporated a digital program into our memberships as a way to truly adapt and evolve with our clients' lifestyles," says Dana Farber, Vice President of Brand Strategy for The Barre Code.
Seeing an opportunity for growth, The Barre Code partnered with SweatWorking, whose app-based program enhances their fitness partners' workouts, bringing the experience to life outside of the studio. In addition to 70+ cardio, strength, and restorative workouts, The Barre Code On-Demand also features app-exclusive challenges, nutritional & wellness content, playlists, and more.
"We're excited to create an even more connected fitness experience for The Barre Code," says Justin Cohen, co-founder and President of SweatWorking. "Members who have fallen in love with this amazing brand will now have even more access on demand."
The Barre Code On-Demand is sold at all studio locations or sold online for non-studio members.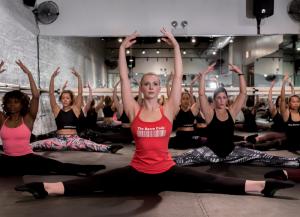 ABOUT THE BARRE CODE
The Barre Code goes beyond the barre to offer cardio, strength training, and restorative classes with an emphasis on positivity and empowerment. Clients of all fitness levels and abilities will leave feeling stronger than ever with a wide variety of class styles, body-positive motivation, and custom-curated playlists. Find a Barre Code studio near you: www.thebarrecode.com.
ABOUT SWEATWORKING
SweatWorking is a turnkey digital fitness platform that enables gyms to share workouts members love through streaming video and audio content on its iOS and Android app. SweatWorking empowers its partners to generate additional revenue and enhance their brand via their proprietary digital content on custom branded channels. Get a glimpse of the platform here. SweatWorking is the sister company of aSweatLife, a recognized online fitness media company.