Kitchen and bath remodeling franchise exceeds all expectations in first quarter
ABERDEEN, S.D. – Kitchen Tune-Up, a national kitchen specialty company known for its five unique services, has exceeded growth goals set for the first quarter, breaking all previously held records for first quarter. From January to March, Kitchen Tune-Up added an astonishing 41 new locations to their map, positioning the brand for robust growth in 2019.
Kitchen Tune-Up's impressive franchising achievement comes as a result of long-term investment in building its franchise system to support sustained growth.
"This year has already been monumental for our brand, and it is still incredibly early in the year," said Heidi Morrissey, president of Kitchen Tune-Up. "Our growth in the first quarter has positioned us for success for the rest of 2019 and beyond. Without our incredible franchisees and their teams this growth wouldn't have been possible."
Kitchen Tune-Up prides itself not only on hard work and the ability to finish a project in 1-5 days, but on the Trustpoints, premier customer service, and family-like mentality business model. With over 190 locations in 39 states, Kitchen Tune-Up had targeted 30 locations for the first three months of 2019 and ultimately surpassed that goal with a total of 41 locations in the first quarter.
"With more than 30 years of experience to build on, people know that Kitchen Tune-Up is a business they can trust.We are using technology to create tools for our owners to work smarter, not harder." added Heidi. "Our family-focus on the brand is also why so many people want to buy into Kitchen Tune-Up. You're not only opening a business, you're joining a community and we are excited to continue to add new members to our family."
Kitchen Tune-Up is a company that has built its reputation on trust, top service and amazing results. The award-winning company has established itself as the industry leader with more than 30 years of success behind it. Kitchen Tune-Up is meeting the growing demand for homeowners seeking to update and upgrade the look of their kitchens throughout the country with its customized service and eye-popping results.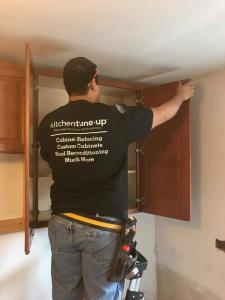 About Kitchen Tune-Up
Founded in 1988, Kitchen Tune-Up specializes in affordable kitchen updates. It is known for its multiple unique options to update kitchens and cabinetry.  Services include its signature one-day wood restoration Tune-Up, cabinet painting, cabinet refacing, cabinet redooring, new cabinets, granite sealing and storage solutions. Celebrating 31 years of business in 2019, Kitchen Tune-Up offers personalized service and incredible results that are structured around customer service Trustpoints to ensure a hassle-free experience from start to finish.