WASHINGTON — This Veterans Day, Paisano's Pizza is proud to show our gratitude and appreciation to the brave men and women who have served our country by offering a free pizza to all veterans. In recognition of their selfless dedication and sacrifice, veterans can enjoy a free medium cheese pizza for pickup when presenting a valid military ID.
"We are incredibly grateful for the dedication and sacrifice of our veterans," said Fouad Qreitem, CEO and owner at Paisano's Pizza. "This Veterans Day, we aim to show our gratitude with a humble gesture – serving a savory pizza, a symbol of comfort and warmth, much like the sense of security and comfort our veterans have selflessly provided through their dedicated service."
Event Details:
What: Veterans Day Celebration – Free Medium Pizza for Veterans
When: 

Saturday, Nov. 11, 2023

Where: All Paisano's Pizza locations
Who: Veterans with a valid Military ID
At Paisano's Pizza, we understand the importance of giving back to those who have given so much to our nation. This is our way of saying "thank you" to the veterans who have served our country honorably.
For more information about Paisano's Pizza and our Veterans Day Celebration, please visit PaisanosPizza.com or call your local Paisano's.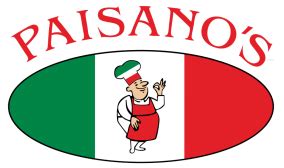 About Paisano's Pizza:
Headquartered in Chantilly, Va., Paisano's has restaurants in Virginia, Maryland, and Washington, D.C., and is a local favorite. Consider exploring a franchise opportunity that offers comprehensive support, a proven business model, and significant brand growth, making it a compelling option for aspiring entrepreneurs in the food industry. Learn more at PaisanosPizza.com.