ORLANDO, Fla. — In the Hawaiian language, Ohana translates to "family" and Island Fin Poké Co., America's favorite poké restaurant, is all about creating an Ohana-like environment for the various market segments it serves. That's why the brand is proud to announce the launch of "Ohana Month" – a celebration of family, community and philanthropy, during the whole month of November.
Island Fin, with its deep roots in Hawaiian culture and cuisine, has always held the values of family close to its heart. The essence of Ohana goes beyond a Hawaiian word that means family; it's a way of life. The brand is deeply committed to fostering a close-knit and supportive community among its guests, cultivating an environment where everyone feels valued and cherished. Inspired by the spirit of family, Island Fin Poké Co. has launched an initiative, from November 1st to December 31st, to benefit Maui Food Bank.
Mark Setterington, CEO and founder of Island Fin Poké Co., shared his thoughts on the significance of Ohana Month, saying, "Ohana is absolutely everything to this brand. We wanted to dedicate a month out of the year to really giving back and emphasize the importance of family. Ohana Month is where our brand can showcase the importance of family and how we come together to bring support to anyone in need. It's a true embodiment of our mission."
A major highlight of Ohana Month is the brand's commitment to giving back to the community. Starting on November 1st, Island Fin Poké Co. will be actively supporting the Maui Food Bank through a special initiative following the devastating recent Maui wildfires. In partnership with the Spartan Race, any Island Fin Poké Co. guest who donates $100 or more using the dedicated link to the Maui Food Bank will be gifted a free Spartan Race ticket. This is a fantastic opportunity to experience the thrill of the Spartan Race and make a meaningful contribution to the Maui Food Bank's vital mission.
The brand has given back to its communities in numerous ways. Back in the month of August, when the fires began to destroy the city of Lahaina, all Island Fin locations directly donated a percentage of their sales on August 18 to the Maui Food Bank to help provide direct relief to Lahaina residents. At the Worcester, MA location, the franchise owners raised money for CASA, the Court Appointed Special Advocate in Worcester. At The Villages, FL location, the franchise owners decided to spread cheer on Christmas Day and visited five local fire stations, delivering Dole Soft Serve® to the first responders on duty to brighten their holiday. With many more local stories, the brand emphasizes the importance of helping its communities in any way they can.
Setterington added, "We believe in the strength of our communities to participate in this initiative. This initiative is more than just a token of appreciation to our guests; it's an embodiment of our commitment to giving back and building a stronger, more connected community. It's a way for us to reinforce our commitment to the values of Ohana that have always been at the core of Island Fin Poké Co."
Island Fin Poké Co. encourages everyone to join in the spirit of Ohana Month and make a difference in the lives of those in need. To learn more about this initiative and to donate, please visit the Maui Food Bank's dedicated page at https://mauifoodbank.org/event/island-fin-poke/. For more information on Island Fin, visit Island Fin Poké Co.'s website at www.IslandFinPoke.com or contact Bianca Kasawdish for media inquiries at Bianca@TeamInnoVision.com.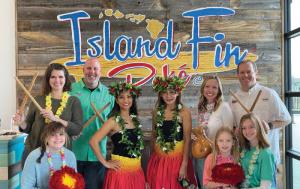 About Island Fin Poké Co.
Island Fin Poké Co. is a Florida-based fast-casual concept known for its Hawaiian-style build-your-own poké bowls. From farm-to-fork, the brand uses the freshest ingredients to bring traditional flavors from the islands to local communities nationwide. Founded in 2017, Island Fin Poké Co. has 26 locations open, with numerous others in various stages of development. Island Fin Poké Co. was ranked #29 on the 2023 Top New & Emerging Franchises list by Entrepreneur Magazine, listed in Fast Casual's 2023 Top Movers & Shakers list, and recognized as a Top 100 Game Changer for 2022 by Franchise Dictionary Magazine. For more information, or if interested in joining the brand's Ohana, please visit https://www.IslandFinPoke.com/.