After a year of rebuilding under new ownership, Bad Ass Coffee of Hawaii re-launches new brand, opens first redesigned store near Salt Lake City, Utah.
DENVER — It's Badass! Royal Aloha Coffee Company (RACC), the new visionary franchise owner of Bad Ass Coffee of Hawaii, has opened its first, new location featuring the ground-up brand rebuild of the iconic Hawaiian coffee franchise. Since purchasing the assets of the franchise company in July 2019, RACC has developed more than an inspired new logo, packaging and in-store design, it has rebuilt operations and the franchisee support system with a new business model, new products and pre-packaged, branded coffees for purchase.
Marking the national launch of Bad Ass Coffee of Hawaii, last week RACC opened its flagship store in West Jordan, Utah, just outside Salt Lake City. The first of the rebranded stores, the new store features a Hawaiian store décor that reflects an authentic Hawaiian vibe that is fresh, cool, and full of badass attitude.
After moving its headquarters from Utah to Denver, Colo., last year, the RACC brand management team began working to build a solid foundation to reintroduce the iconic brand. RACC has rejuvenated the brand from top to bottom with a contemporary logo that reflects its retro Hawaiian roots, graphics packaging and new store design and décor. Investments in marketing, the franchise business model, new products and reliable franchise operations support were all designed to support the franchisee and increase profitability for the chain. The company plans to relocate its distribution operation to Denver late this summer.
"There's an enduring love and consumer connection with this brand that has extended far beyond its current locations, and that's very exciting," said Scott Snyder, CEO of Bad Ass Coffee of Hawaii. "We're committed to growing this brand by sharing the warm Hawaiian hospitality and culture of the Aloha Spirit in our stores and by selling American-grown Hawaiian coffees and other premium international blends to coffee lovers everywhere in an environment where you can relax, be yourself and fuel your inner badass."
Bad Ass Coffee of Hawaii was founded on the Big Island of Hawaii in 1989 and named for the generations of donkeys of Kona, Hawaii, whose bellows could be heard as they carried their precious loads of coffee beans down the steep volcanic mountain sides.  The native people of Kona named these hard-working donkeys the "Bad Ass Ones" because of their reliably strong, but stubborn nature.
Franchising on the mainland since 1995, Bad Ass Coffee of Hawaii currently has 24 locations in the U.S. and Japan. With no significant design upgrades to the stores for over 25 years, 2020 marks the year that the brand will roll out a new and authentic evolution of the Bad Ass Coffee brand while still honoring the heritage and history of providing premium coffee from their longstanding partnerships with Hawaiian coffee farmers.
"We take our Hawaiian roots very seriously," said Snyder. "Our brand would not have the following that it does today without a commitment to quality coffees produced by relationships developed with multi-generation Hawaiian Coffee farmers. Their dedication to their craft produces some of the world's finest coffees which we're proud to share at Bad Ass Coffee of Hawaii."
The task of new brand development, new packaging, and new store design was awarded to the Girvin Agency founder, Tim Girvin – a living legend in the brand design systems space. The brand package was released internally in December 2019. New packaging designs appeared online in March 2020 along with a store redesign package that was presented to existing and potential franchisees.  
"We have aggressive growth plans to expand our franchise network on the mainland and to re-establish a strong presence in Hawaii," said Snyder. "We are also pursuing multi-channel growth of our brand through grocery, hospitality and online sales channels."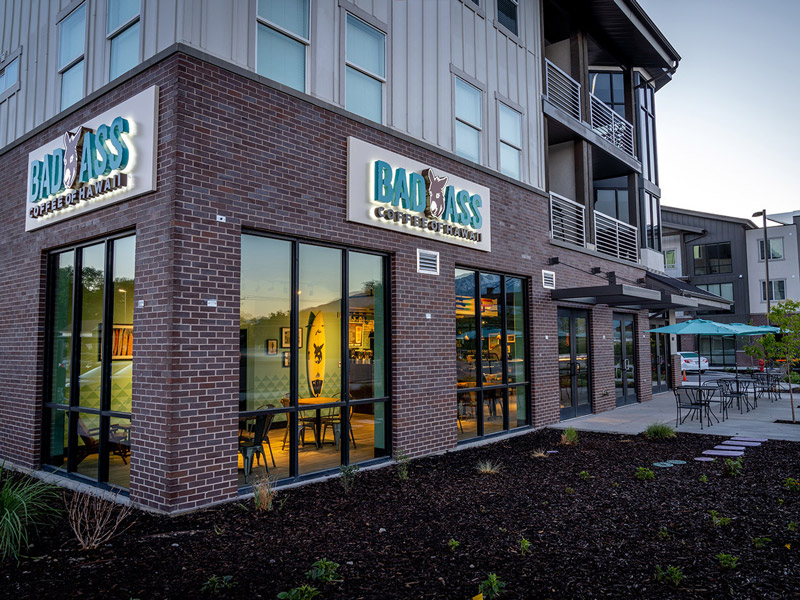 About Bad Ass Coffee of Hawaii
Bad Ass Coffee of Hawaii was born on the "Big Island" of Hawaii in 1989 as a popular spot where locals would come together to enjoy freshly roasted and brewed 100% Kona coffee that was grown and harvested nearby. Today, Bad Ass Coffee of Hawaii is dedicated to introducing and sharing the delicate, yet flavorful and deliciously aromatic premium Hawaiian coffees with a kick from the "Big Island", Maui, Kauai, Molokai and Oahu through franchises in the US and Japan. Bad Ass Coffee of Hawaii stores also serve popular blended drinks, teas, food, other select international premium coffees and popular branded merchandise. The company is committed to providing exceptional service and sharing the warm hospitality of the Aloha Spirit in a Hawaiian setting that allows customers to relax, enjoy themselves and fuel their inner Badass. 
Bad Ass Coffees are sold in franchise stores as well as online and will soon be available through grocery, hospitality and specialty retail channels. The Bad Ass Coffee of Hawaii brand and franchise is owned by Royal Aloha Franchise Company, LLC.  For more information, visit www.badasscoffee.com  Stay connected to Bad Ass Coffee of Hawaii on Facebook www.facebook.com/badasscoffeeofhawaii and Instagram https://www.instagram.com/badasscoffeeofhawaii/.