ORLANDO, Fla. — Becoming a successful restaurant franchise is not an easy task; it takes a strong brand with an extraordinary culture that serves deliciously healthy flavors. Island Fin Poké Co., America's best poké restaurant, jumped its ranking from last year of #59 to now being ranked #29 on the 2023 Top New & Emerging Franchises list by Entrepreneur Magazine, a leading online franchise publication.
The brand has always remained consistent and continues to provide every guest with unparalleled service and a family-like atmosphere. From curated music to only using the freshest boat-to-bowl ingredients, every Island Fin Poké Co. location offers an incredible sensory experience. This means each time a guest experiences a poké bowl at Island Fin, they are experiencing the incrediBOWL, which is personally crafted to the guest's liking. Offering chicken, tofu and spam protein options, aside from the traditional fish options of tuna, salmon, shrimp and octopus, Island Fin caters to all preferences with everything on their menu being gluten-free.
According to Entrepreneur Magazine, the Top New & Emerging Franchise list recognizes franchises that have demonstrated strong potential for growth in the years to come. These companies, including Island Fin Poké Co., are on this list and are ranked based on the scores they received in the Franchise 500 evaluation, which analyzes more than 150 data points in the areas of costs and fees, size and growth, franchisee support, brand strength and stability.
"The franchise industry is full of big new ideas, which is why Entrepreneur's Top New and Emerging list is always so exciting," said Entrepreneur Magazine editor-in-chief, Jason Feifer. "If anyone's looking to get in on the ground floor of the next big thing, they should start with the brands we've identified— that are all full of creativity, innovation and accessibility for aspiring entrepreneurs."
Island Fin has also recently been named on the "SUPERHERO BRAND 500" list by FranServe. To be named on this list shows each brand values a fun and rewarding lifestyle and emphasizes people fulfilling their dreams of business ownership through franchising. Brands on this list are recognized for going above and beyond and being superheroes. This is based on criteria of brand identity, clear marketing message, industry leader, turnkey model, operational support, training and scalability.
"We're thrilled to be recognized as one of the top new and emerging franchises yet again and as a Superhero brand," said Mark Setterington, CEO of Island Fin Poké Co. "Our team and franchisees have worked tirelessly to build a strong and sustainable business model that resonates with our guests across the country, and this ranking is a testament to their hard work and dedication."
The brand continues to grow its fan base and introduce poké to new audiences and draw interest from new franchisees across America. Determined to offer more and appeal to new guests, Island Fin began offering free two-ounce samples of their most popular options for guests to try, with the goal of making poké more approachable and educating guests on the endless options of flavors. Since its introduction, the free two-ounce sample of poké is converting guests at POS at a rate of over 95%, turning people who thought they would never even try it into new poké lovers because of their amazing experience and the combination of exotic and familiar flavors.
Perhaps one of the most extraordinary and unique features at Island Fin is the absence of trash cans and dining trays in the dining room. Unlike all other fast-casual and fast-food restaurants, the team members will serve each guest their food and clear the always empty dishes and trash at the end of the meal.
"We believe that our commitment to guest service, quality and sustainability sets us apart from other restaurant brands," added Setterington. "We're getting a lot of attention from young entrepreneurs interested in franchising because of our unique franchise model, the growing trend for healthy food that is delicious and our simplified fast-casual concept."
Because their poké bowls are paramount in freshness, flavor and ingredients, the brand has been recognized and celebrated through several other noteworthy awards over the last six years as well. Earlier this year, they were recognized as a Top 100 Game Changer for 2022 by Franchise Dictionary Magazine. To be recognized, the brand had to fulfill an assortment of criteria including impressing millennials, making an impact, serving their community, creating an opportunity for aspiring entrepreneurs and filling a niche.
To learn more about the brand's Ohana or becoming a franchisee, visit https://www.IslandFinPoke.com/.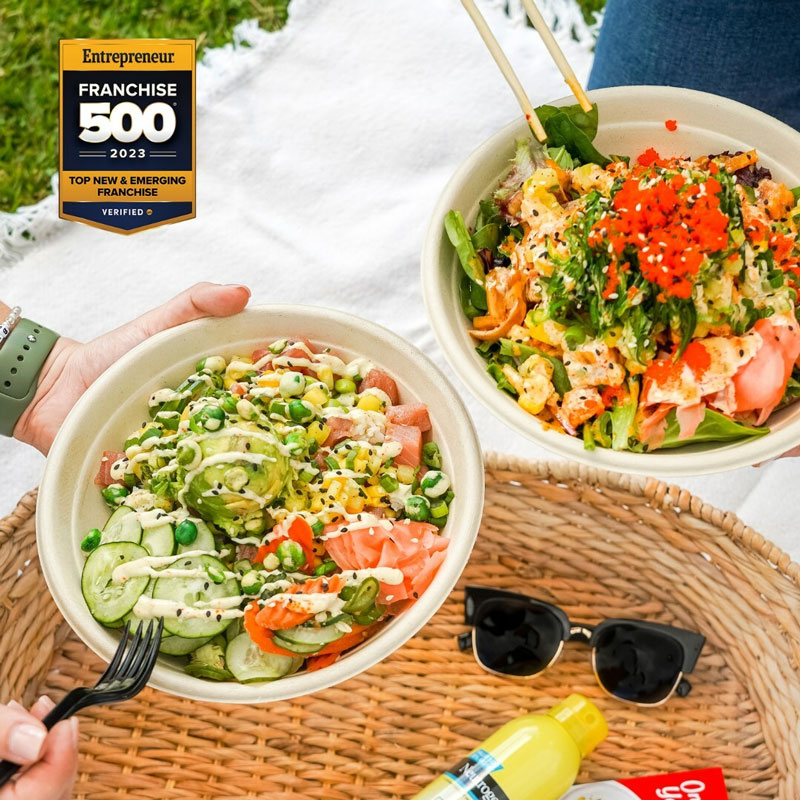 About Island Fin Poké Co.
Island Fin Poké Co. is a Florida-based fast-casual concept known for its Hawaiian-style build-your-own poké bowls. From farm-to-fork, the brand uses the freshest ingredients to bring traditional flavors from the islands to local communities nationwide. Founded in 2017, Island Fin Poké Co. has 25 locations open, with numerous others in various stages of development. Island Fin Poké Co. was recognized as a Top 100 Game Changer for 2022 by Franchise Dictionary Magazine and listed in Fast Casual's 2022 Movers & Shakers List. For more information, or if interested in joining the brand's Ohana, please visit https://www.IslandFinPoke.com/.