With a shared vision for health and accessibility, Ladder joins TITLE Boxing Club as its exclusive nutrition partner
KANSAS CITY, Mo. — TITLE Boxing Club, the nation's premier boxing studio, is proud to announce its partnership with Ladder, the new nutritional supplement brand founded by LeBron James, Cindy Crawford, Arnold Schwarzenegger and Lindsey Vonn. The powerhouse foursome launched Ladder in November 2018 to provide an effective, scientifically-supported approach to healthy living and personal nutrition. TITLE Boxing Club jumped at the opportunity to join forces with the industry leading brand.
With nearly 200 clubs across the globe, and another 150+ in development, TITLE Boxing Club is viewed as an authority in the boxing realm, having taken one of the world's oldest sports and made it modern. In addition to its addictive in-studio workouts, TITLE also recently launched an exclusive digital product: TITLE Boxing Club On Demand. The streaming platform makes TITLE's transformative, full-body workouts and world-class trainers accessible outside the club, allowing clients to join boxing-inspired classes anywhere at any time.
A Shared Vision
"Ladder is truly a perfect partner for us, especially at such an exciting time of growth for our company," says TITLE Boxing Club President Susan Boresow. "Not only does Ladder share our mission of providing trustworthy resources and welcoming communities for people of all fitness levels, their clean supplements are the ideal match for our TITLE Boxing Club members."
Featuring four core products (whey protein powder, plant protein powder, greens powder and energy powder), Ladder's supplements meet the highest levels of safety and purity. They are NSF Certified for Sport®, which means the labels are verified as accurate, the products are tested and free from toxins and contaminants, and there are no banned substances. Like TITLE Boxing Club, Ladder aims to meet the demands of everyone seeking a healthy lifestyle – from professional athletes to everyday fitness enthusiasts.
Partners on Tour
TITLE's partnership with Ladder will commence with the 2019 TITLE Tour this spring, which includes stops in Kansas City, Mo, Los Angeles, and New York City. The goal of the TITLE Tour is to share TITLE's high-intensity workouts and new digital app with men and women across the country. Co-hosted by some of the fitness world's top social media influencers, the TITLE Tour events will feature a vibrant, party-like setting. Guests will be treated to a signature TITLE Boxing Club workout, a braid bar, a live DJ, one-on-on-one training, swag bags and fresh, made-to-order smoothies featuring Ladder's supplements.
"We're thrilled to hit the road with Ladder and give more people the opportunity to be part of our strong, all-inclusive boxing community," Boresow says. "Much the same as our workouts, the TITLE Tour will be energetic, engaging and welcoming to all."
All TITLE Tour events are open to the public, but guests are required to RSVP to ensure proper accommodations. For more information on each event, please visit: https://get.titleboxingclubondemand.com/title-tour/.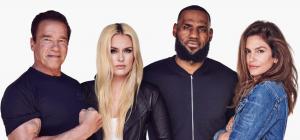 About TITLE Boxing Club®
TITLE Boxing Club, a Franworth company, is the nation's leading boxing-inspired fitness club, committed to giving people of all ages, bodies, weights and abilities the most empowering workout of their lives. Founded in 2008, TITLE Boxing Club took one of the world's oldest sports and made it modern and accessible to all. Today, the Kansas City-based company boasts 180+ locations across the globe, 150+ locations in development and a virtual fitness application that allows members to access on-the-go classes anytime, anywhere. In addition to being featured on and in FOX News, Bloomberg, Shape Magazine, Women's Health and The Wall Street Journal, TITLE Boxing Club was ranked the No. 1 Fastest-growing Franchise by Inc. Magazine in 2015. To learn more about TITLE Boxing Club's franchise opportunity, visit titleboxingclub.com/own-a-franchise. Read more about the brand at titleboxingclub.com.
About Ladder
Ladder is a nutritional supplement company created by LeBron James, Cindy Crawford, Arnold Schwarzenegger and Lindsey Vonn. With their common passion for health and wellness and a desire to make a difference, Arnold, Cindy, LeBron, and Lindsey created Ladder. Ladder offers nutritional supplements that meet the highest standards for safety and purity and access to its team of world-class experts. For more information, visit weareladder.com.