Innovative Dog Training Franchise Further Cements Business Model Success and Unique Pet Socialization Technique by Surpassing 50 Units Opened in 2023. 
LOS ANGELES — Zoom Room, the venture-backed pioneer redefining the human-canine bond, celebrates a new milestone in a transformative year with the opening of its 50th unit, each serving as a community hub for dog owners and their pets. The company's remarkable expansion comes hand-in-hand with equally impressive achievements, as Zoom Room receives recognition among Inc. 5000's Top 40 Fastest-Growing Consumer Services Brands in the U.S. and Entrepreneur's 2023 Top Franchises for Diversity, Equity, and Inclusion.
The success of opening 50 franchise units underscores the viability of Zoom Room's business model, which centers human education and socialization-forward training methods. The company continues to blaze a trail forward within the industry by delivering unparalleled pet training services to dog owners and building a deeply committed network of franchisees nationwide. Recent developments and openings have taken shape in key locations including Chicago, Florida, Texas, and beyond.
The resonance of Zoom Room's impact has earned the company a coveted spot as #38 in Consumer Services on the Inc. 5000 list. The brand's strategic approach to business expansion, coupled with its unwavering dedication to customer satisfaction, has propelled it onto the national stage as a prominent player in the pet sector.
What has proven to be a lucrative, rapidly-expanding business is supported by a foundation of core values that are reflected in another recent win for Zoom Room within Entrepreneur's Top Franchises for Diversity, Equity, and Inclusion. This accolade is a testament to the brand's efforts in fostering a professional environment where every individual, regardless of background, finds opportunities to thrive and contribute.
"Our mission at Zoom Room has always been to make our business synonymous with dog training and redefine the way dog owners think about the industry," said Mark Van Wye, CEO of Zoom Room. "We are incredibly proud to continue exceeding expectations as we expand our reach and create more spaces that enrich the lives of both dogs and owners."
To bolster its commitment to franchisee success and unmatched client experiences, Zoom Room has strategically expanded its leadership team with the addition of Herb Heiserman as VP of Design & Construction and Michele Ramos as Director of Multi-Unit Operations.
The onboarding of both new hires enhances Zoom Room's multi-unit development strategy, which has been a cornerstone of its business model, enabling franchisees to capitalize on the company's immense value proposition. With eyes set on widening its geographical footprint, the company welcomes existing and prospective franchisees to join in the movement to transform the dog training landscape.
"As we celebrate the milestone of reaching 50 franchise units, we extend our gratitude to our dedicated franchise partners, passionate staff, and loyal customers who have experienced firsthand what makes our approach unique," said Anthony Polazzi, Director and CFO of Zoom Room and Founder and President of APFC. "We're not just offering prospective franchise owners a highly profitable business opportunity; we're inviting them to join a revolution that is positively impacting dog owners, building communities and is poised to reshape the pet industry."
Zoom Room's extraordinary accomplishments emphasize its attractiveness as a franchise investment opportunity. Entrepreneurs seeking a dynamic and forward-thinking business model can leverage the brand's proven track record, diverse offerings, and commitment to growth as a pathway to success.
For more information on Zoom Room, visit https://zoomroom.com/. For those interested in learning about franchise opportunities: https://zoomroom.com/franchise/.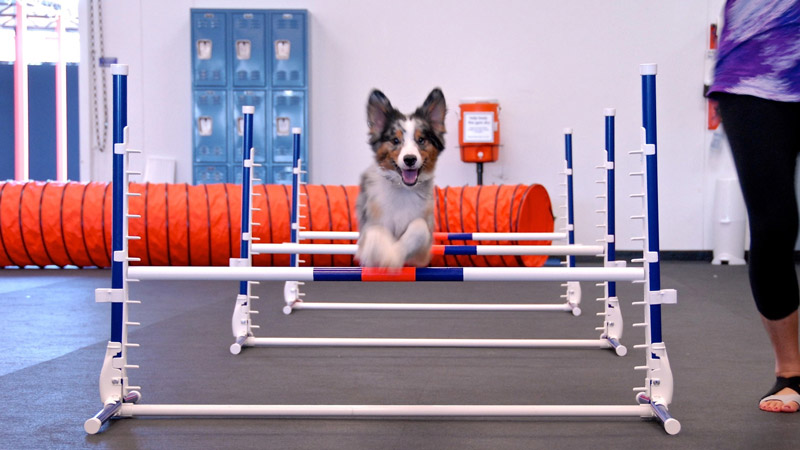 ABOUT ZOOM ROOM
Established in 2007, Zoom Room® is a venture-backed and revolutionary indoor dog training gym, recently recognized as one of the Top 40 fastest-growing consumer service brands in the United States per the Inc 5000 list. Zoom Room's mission is to deepen the bond and communication between dogs and their human companions through its focus on socialization, positive reinforcement, human education, and interactive learning. Accolades include rankings on Entrepreneur's Franchise 500 list and their esteemed list of Top Franchises for Diversity, Equity, and Inclusion. They are also the authors of the best-selling dog training book, Puppy Training in 7 Easy Steps and Ultimate Puppy Training for Kids. Committed to social responsibility, Zoom Room celebrates responsible pet owners and actively collaborates with animal rescue and welfare organizations at both local and national levels. Discover more about how Zoom Room is redefining the pet industry at https://zoomroom.com/.