Contents Restoration Company Hits Growth Spurt Adding 30 New Locations in The Last Three Months Alone.

ANN ARBOR, Mich. — Blue Kangaroo Packoutz, a leading commercial and residential contents restoration company, has gained nationwide recognition for its innovative contents processing technology that allows their highly-trained technicians to rescue and assess contents inside homes and businesses following man-made or natural disasters. These systems also enable their franchise owners to work seamlessly and collaboratively with insurance companies as they reassess loss and reimbursements.
In 2022, the Blue Kangaroo Packoutz business development team led the brand to new heights, as the fast-growing contents restoration company expanded into 30 new communities in under three months, closing out the year with close to 37 new locations across the country. With no signs of slowing down, Blue Kangaroo Packoutz has more than tripled in size in just one year.
Adding to the brand's exciting growth and development, Blue Kangaroo Packoutz has been nominated by Entrepreneur Magazine as a 'Top New and Emerging Franchise' for the way the franchise has adapted and evolved to the unique challenges that have shaped the industry over the past year.
Heading into 2023, Blue Kangaroo Packoutz is anticipating another year of double-digit unit growth as the concept continues to add savvy business owners to the franchise system. Aspiring entrepreneurs are choosing Blue Kangaroo Packoutz to capitalize on an affordable franchise opportunity in the lucrative contents restoration industry, all while making a positive impact in their community.
"What the brand has achieved in the past four months alone shows the growth trajectory the brand is on as we look ahead in 2023 and beyond." Said Tim Fagan, President of Blue Kangaroo Packoutz. "The business has valuable elements to help franchise owners succeed. It's a worthy investment with big potential for financial rewards in a recession-resilient industry. We are essentially helping our customers put their lives back together when they experience loss and going the extra mile to ensure that their' salvageable contents are fully restored to pre-loss condition. Whether we're helping people who experience damage from water, fire or smoke, this is incredibly important and rewarding work. That's why so many franchise owners want to be a part of this journey, serving an important purpose in their community."
The surge in success is due to Blue Kangaroo Packoutz's reputation for exceptional customer service in times of crisis and the driving demand for restoration professionals following natural disasters. In addition, its proven business model and unique concept has proven a smart investment in a recession-resilient industry. In addition to the brand's growing footprint, the business opportunity has helped several entrepreneurs achieve exponential results.
The brand appeals to both existing and new franchisees due to its simple business model and ethos being a part of BELFOR Franchise Group, a family of 13 industry-leading residential and commercial service franchise concepts owned by the worldwide restoration leader BELFOR Property Restoration. This structure and support system has allowed entrepreneurs to build successful businesses in their local community as a result of BELFOR's family-oriented culture, built-in expansive knowledge, world-class operational expertise, and its ecosystem of connections in the service industry.
Leading with rigorous processes and personal attention to contents care when the unexpected happens, Blue Kangaroo Packoutz has quickly earned customer trust in the markets where it has existing locations. As it looks to expand its geographic footprint to serve the growing need for full-service content restoration on a national scale, the brand is steadily adding ambitious entrepreneurs and new locations in prime markets across the country.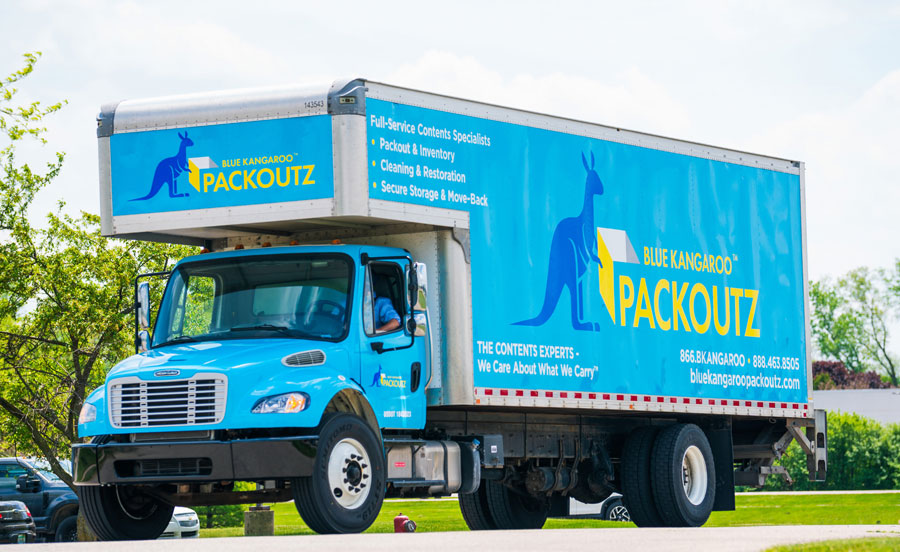 About Blue Kangaroo Packoutz
Blue Kangaroo Packoutz is a leading contents restoration company that responds to the rescue of personal and business assets after an insurance loss, primarily fire and water damage. Backed by deep industry experience and industry-leading systems, the brand's services include assessment and pack-out of all contents, inventorying, secure storage, cleaning and restoration of economically salvageable items, and move-back once the property has been restored.
The company does more than restore contents; their highly-trained experts bring compassion into the homes and commercial properties they serve. They also live the Blue Kangaroo Packoutz mission, "We Care About What We Carry," by providing exceptional service, proactive communication, full transparency, caring support and a dedication to excellence. Blue Kangaroo Packoutz is part of the BELFOR Franchise Group family of residential and commercial services franchise companies.
To learn more about Blue Kangaroo Packoutz, visit https://www.bluekangaroopackoutz.com/. "Like" Blue Kangaroo Packoutz on Facebook and "Follow" @BKPackoutz on Twitter.