Leading Complete Bathroom Remodeling Company Partners with Quote Countertops to Debut Revolutionary Technology
PHOENIX — Re-Bath, the nation's largest complete bathroom remodeling company, has joined forces with Quote Countertops to debut a new, revolutionary technology tool called "Bathroom Visualizer." Designed to take the headache out of the complex bathroom remodel experience, the Bathroom Visualizer tool is an easy-to-use online platform where consumers can visualize and design their dream bathroom instantly on any device.
"Bathroom remodels are a complex journey of putting together many different products and configurations," said Alan Lerner, CEO of Quote Countertops. "Quote Countertops and Re-Bath have collaborated their efforts to streamline this complex process to inspire customer creativity from the comfort of their own home."
For many, bathroom remodels have long been an intricate experience of multiple choices with just as many places to shop for products and services. The Bathroom Visualizer tool helps consumers simplify a typically overwhelming selection process of thousands of products from cabinets, countertops, tile, fixtures, showers, tubs, toilets, mirrors, paint, and much more. The tool gives the power of design to the customer and creates an in-home design experience that supports the visual needs of consumers without a lengthy process. With the use of cutting-edge technology, Re-Bath has created a fun and exciting approach for consumers to dream, design, and share their remodel ideas with family and friends – even through social media.
"We understand the challenges and hesitation involved with embarking on a new bathroom remodel project," said Brad Hillier, CEO of Re-Bath. "As our company continues to grow and evolve, it is our goal to simplify the process and reassure our customers that a remodel can be effortless, convenient and affordable. With the launch of the Bathroom Visualizer tool, we aim to enhance the consumer experience."
Once a customer designs a bathroom in the tool and fills out their contact information for next steps, a picture of the bathroom they designed along with an itemized list of products used in the design are sent to their local Re-Bath franchise location. This allows for a streamlined process and quicker turnaround on projects.
Re-Bath has grown into a trusted and respected brand known for providing expert, affordable, and effortless bathroom remodeling solutions that transform homeowners' bathrooms in days, not weeks. Whether seeking a tub or shower area update, better accessibility and safety in your bathroom or a complete bathroom remodel, Re-Bath takes the headache out of bathroom remodeling. The company's exclusive remodel process removes old materials and fixtures and replaces them with beautiful new options in a wide variety of colors.
Re-Bath has grown to nearly 100 locations in 43 states and continues to seek strategic franchise partners to expand its footprint nationwide.
To learn more about Re-Bath and your bathroom remodeling needs, visit https://www.rebath.com/.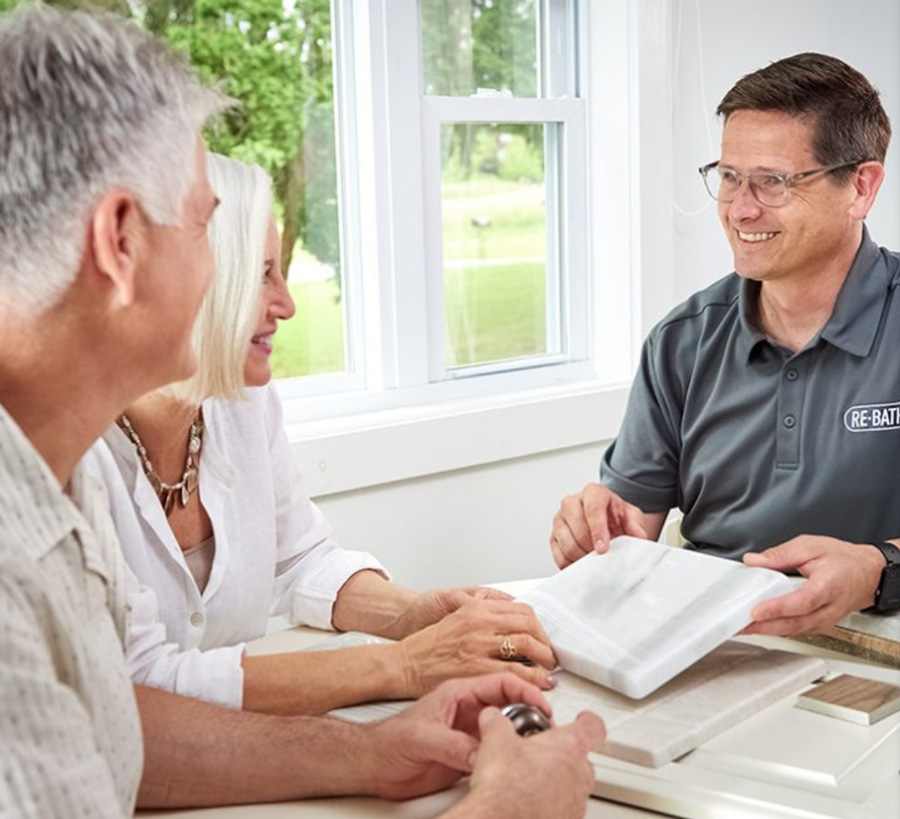 About Re-Bath
Re-Bath is the nation's largest complete bathroom remodeling franchise located in more than 100 cities across the country. The parent company's first entry in the bathroom remodeling industry occurred in 1978 and focused on the hospitality sector. In 1991, Re-Bath launched its first franchise location to focus on the residential market. The company offers complete bathroom remodels, tub and shower updates, plus aging and accessibility solutions. From simple bathtub replacements to complete bathroom redesigns, Re-Bath makes bathroom remodeling effortless, convenient and affordable, all with professional, friendly and factory-trained installers. Re-Bath is a one-stop service that covers the entire process – from design to done – in three easy steps: consultation, removal, and installation. Re-Bath assembles its own exclusive line of products at its headquarters located in Phoenix, Ariz., and offers best-in-class products from national brands for its customers. For more information please visit www.rebath.com or www.rebathfranchise.com for more details on the franchise opportunity.