Donna Catalfio, Sharon Villegas and Dana Fossand Join as COO, CMO and V.P. of Corporate Stores
PHOENIX — Re-Bath, the nation's largest complete bathroom remodeling company, has announced the promotion of Donna Catalfio to Chief Operating Officer and General Counsel, hired Sharon Villegas as its new Chief Marketing Officer, and promoted Dana Fossand from Director of Sales to V.P. of Corporate Stores. The three women are taking on these roles at a pivotal growth point for the brand as it expands to 100 units and beyond.
As a licensed attorney with over 15 years of experience in private practice, Catalfio joined Re-Bath in February 2017 as Chief Administrative Officer. She was responsible for managing HR, training and legal. Towards the end of 2018, she was promoted to Chief Operations Officer and General Counsel. Today, she oversees and manages franchise operations, excluding marketing, and handles all legal matters.
For more than 20 years, Villegas has built an impressive resume of brand development and rejuvenation, lead generation and consumer retention. Before Re-Bath, Villegas established the Scottsdale-based marketing agency Peppertree Marketing; over the next 15 years she spearheaded B2B and B2C marketing initiatives, both traditional and online, for numerous international, national, regional and local companies. Prior to Peppertree Marketing, Villegas served as Senior Vice President of LBC Advertising, where she helped increase the agency's client base and revenues in the home industry.
Additionally, Fossand brings over 20 years of sales and training experience to the table, stemming from her own franchise background. Now, she will serve as the V.P. of Corporate Stores for Re-Bath to provide owners and employees with sales training insights and tools. Fossand has significant experience in building customer and franchisee value. Known for her ability to grow and increase organizations' annual sales, Fossand is a strategic leader who will assist with realigning Re-Bath's business operations while enhancing business growth efforts in order to unleash disciplined innovation and encourage long-term stability. Finally, she will continue to hire, train, mentor and coach teams at the corporate level.
"Re-Bath is at a pivotal point of growth. We're building our team of best-in-class leaders to elevate our brand and experience for our customers," said Re-Bath CEO Brad Hiller. "Donna, Sharon and Dana all have the know-how mindset and track record with remodeling and franchise brands. With these women's prior experiences, it's clear that they consistently meet and exceed their goals. That's the kind of focus and determination we need in order to expand our footprint and help franchisees grow advantageously."
With Re-Bath's new leadership team in place, the brand will officially be launching its second corporate-owned location this year. Now with 100 locations in 34 states, Re-Bath is gearing up for national expansion through strategic partnerships with passionate entrepreneurs in target markets across the United States. The new corporate-owned location will serve as an aid for the brand to gain a better understanding of the systems, procedures and operations that currently exist in the system and allow for the necessary changes to ensure every franchisee is set up for success. Re-Bath remains committed to giving every customer an unmatched experience and believes this begins with the support given to every local operator.
Re-Bath has grown into a trusted and respected brand known for providing expert, affordable, and effortless bathroom remodeling solutions that transform homeowners' bathrooms in days, not weeks. Whether seeking a tub or shower area update, better accessibility and safety in your bathroom or a complete bathroom remodel, Re-Bath takes the headache out of bathroom remodeling. The company's exclusive remodel process removes old materials and fixtures and replaces them with beautiful new options in a wide variety of colors.
To learn more about Re-Bath and your bathroom remodeling needs, visit https://www.rebath.com/.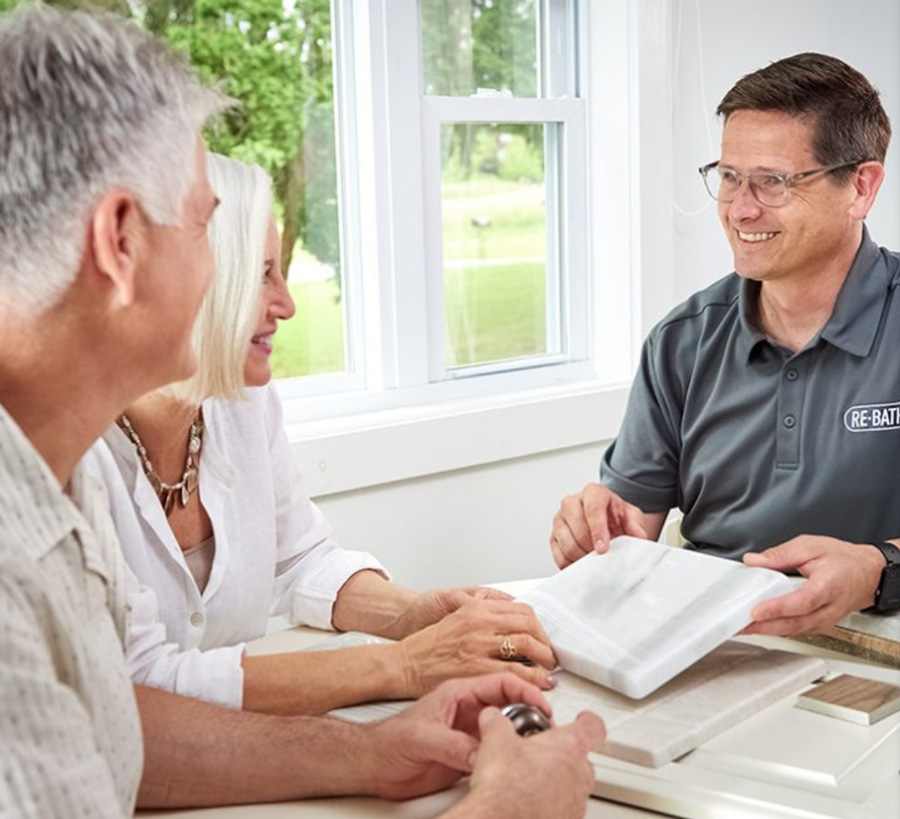 About Re-Bath
Re-Bath is the nation's largest complete bathroom remodeling franchise located in more than 100 cities across the country. The parent company's first entry in the bathroom remodeling industry occurred in 1978 and focused on the hospitality sector. In 1991, Re-Bath launched its first franchise location to focus on the residential market. The company offers complete bathroom remodels, tub and shower updates, plus aging and accessibility solutions. From simple bathtub replacements to complete bathroom redesigns, Re-Bath makes bathroom remodeling effortless, convenient and affordable, all with professional, friendly and factory-trained installers. Re-Bath is a one-stop service that covers the entire process – from design to done – in three easy steps: consultation, removal, and installation. Re-Bath assembles its own exclusive line of products at its headquarters located in Phoenix, Ariz., and offers best-in-class products from national brands for its customers. For more information please visit www.rebath.com or www.rebathfranchise.com for more details on the franchise opportunity.