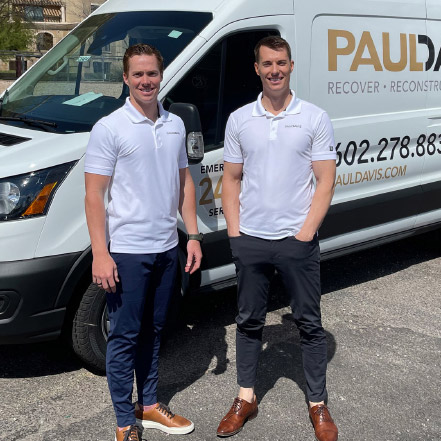 When Brandon Radmall graduated from college in 2009, the economy was dismal. With few job offers on the horizon and salaries in his industry at an all-time low, the business major decided to join a company that he deemed recession-resilient. By Jessica Jones
A One-Stop Shop
When Brandon Radmall graduated from college in 2009, the economy was dismal. With few job offers on the horizon and salaries in his industry at an all-time low, the business major decided to join a company that he deemed recession-resilient.
"I was attracted to Paul Davis Restoration because there is always a need for these services," Radmall said. "The idea of putting people's homes back together was also very satisfying to me. When someone's life is turned upside-down in a flood or a fire, we help pick up the pieces."
An expert at repairing residential and commercial properties damaged by fire, water, mold, storms, and other disasters, Paul Davis Restoration has over 300 independently-owned franchises in the U.S. and Canada. The company simplifies the complex process of recovering from property damage by providing complete services, and it eliminates the need for and expense of hiring multiple contractors. Paul Davis is a one-stop shop for disaster damage and restoration.
After working for the company for a few years, Radmall purchased his Salt Lake City franchise in 2013 before partnering in a Phoenix outpost of the business with his twin brother, Brady, in 2020. Both brothers have put up record numbers in the past year.
"This has been by far the wisest choice I've ever made," Radmall concluded about his involvement in the Paul Davis company. "We hope to expand in the very near future." Radmall shares what his day looks like as a franchisee below. For more information about Paul Davis franchising opportunities visit pauldavisbusiness.com.
– Jessica Jones