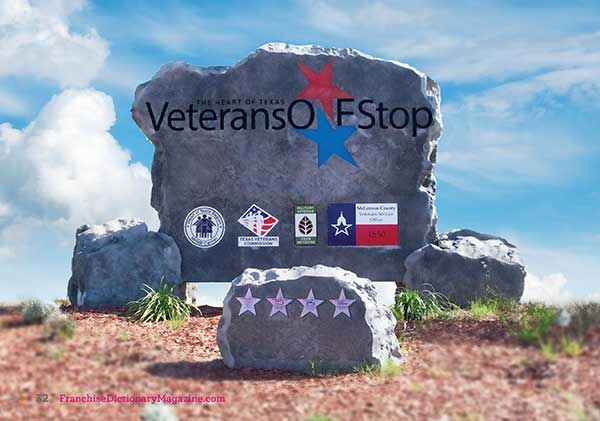 Boulder Designs Honors Veterans and Provides Unique Opportunities. By Rose Mango
Boulder Designs Honors Veterans and Provides Unique Opportunities
As their name implies, Boulder Designs creates custom crafted boulders. Not just any type of boulders, but exceptionally strong and incredibly customizable boulders. They are formulated from sand and a few other proprietary ingredients that make them completely customizable in size, color and design. Boulder Designs boulders are used in many applications including commercial and residential signage.
Ranked since 2013 in Entrepreneur's Franchise 500, they are a growing company that is headquartered in Waco, Texas. Boulder Designs franchise representatives serve customers nationwide. In January 2016, Butch Mogavero took over ownership of the company and helped develop the franchise model to enable to expand across the country. One of Mogavero's desires was to honor veterans every chance he could.
One of Boulder Designs and Mogavero's many achievements was building a monument rock for the Marlin Veteran Museum. This museum is a home in Marlin, TX, that belongs to one of the Red Horse Air Force Unit 555 survivors. The home was dedicated as a museum and center to honor the Red Horse Unit 555. These were exceptionally skilled airmen that were trained engineers in the Vietnam war, and were often the first ones dropping into the jungles to build runways and camps for the troops to move in. As you approach the museum, it is clearly marked with a beautiful Boulder Designs boulder. "It makes a beautiful statement and Boulder Designs was honored to create it," said Butch Mogavero, CEO.
The Military Times lists Boulder Designs as #4 for Best For Vets Franchises. Their steady growth of franchises reflects those exceptional rankings. Boulder Designs franchisees are successfully doing business from coast to coast, with new franchises springing up everywhere, every year. Boulder Designs wants to encourage veterans to reach out and learn more about their Veterans Franchise program. They have several veteran franchisee owners that started without experience but are now owners of their own business. Boulder Designs considers it an honor and a privilege to assist our veterans to become business owners. They are deserving of it and Boulder Designs pulls out all the stops to make a veteran's dream come true in becoming a franchisee. Boulder Designs says it is the least they can do after these men and woman have served in the military to keep us safe. "We are only able to do business today because of the freedom these veterans gave to us. Their brave sacrifice in protecting our country has made a way for generations to live free. That is why we give back. That is why we are Boulder Designs today," said Mogavero.
For more information on their Veterans Program or franchising itself, visit: https://www.boulderdesigns.net/franchise-opportunities/
– Rose Mango