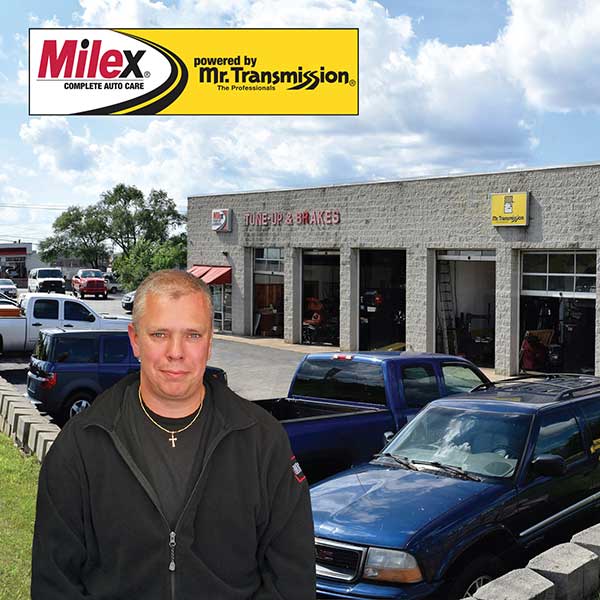 Milex and Mr. Transmission franchisee builds on a strong customer service foundation. By Rose Mango
Cars & Caring
Milex and Mr. Transmission franchisee builds on a strong customer service foundation
Jason Kuriger puts the customer on a pedestal at his co-branded franchises Milex®, which does general automotive repairs and maintenance, and Mr. Transmission®.
He says that operating both out of the same building in Crest Hill, Illinois, has been a win-win, although finding and keeping good staff can be a challenge. "I want to get the right people who are motivated for the right reasons and on the same track." When interviewed for this article, he was losing two valued technicians because of moves. But after seven years in the automotive services industry (he owned Milex first and added Mr. Transmission in 2015), Kuriger is confident in his ability to find staffers who will put the customer first, just as he does.
Both franchises offer complete independence in handling customer service. "When you have a good, loyal customer base, you can support that customer. Money is the byproduct, not the reason, I run my business," Kuriger says. "We have a 5.0 rating because we care."
He builds rapport and maintains loyalty in several ways. He learns clients' first names and they develop mutual respect; it's a family relationship between them and his business. In addition, Kuriger has a special teacher program with benefits to educators, and he supports Easter Seals with fleet servicing. He also owns a used car lot, and he discounts the cost of services for cars purchased there.
All of those efforts are paying off: "We are now doing 380 cars a month when it was 85 a month before I took over." And he adds, that even the franchise executives travel more than 35 miles to service their cars with him. Suffice it to say, becoming a franchise owner has been a successful for Kuriger and life is good.
For more information, please visit the website: https://www.cresthillmrtmilex.com/
– Rose Mango