Elegant French Patisserie Franchise Looks to Add 20 New Locations by 2023
NEW YORK — Le Macaron French Pastries, an elegant French patisserie that offers guests the finest, authentic French macarons and pastries, recently announced plans to introduce more than 20 locations in targeted communities throughout New York. The community-focused brand will ignite growth through strategic franchise partnerships and aims to open the new locations within the next five years.
Le Macaron French Pastries currently has more than 50 locations across the nation and is looking to ramp up growth through a selective strategy, focusing on a solid foundation of smart franchise partnerships and tactical site selection. Already finding success in the market is franchisee Frank Kelly whose Yonkers location has been in operation since April 2017.
"New York has proven to be the perfect market for Le Macaron French Pastries – the community has been incredibly supportive and the community appreciates the elevated flavors our pastries have to offer," stated Kelly. "From the locals to the millions of visitors that flock to the city every year, we've developed a loyal-fan base with our authentic macarons that are unparalleled in the market. I look forward to watching Le Macaron French Pastries further expand its presence throughout New York."
Founded by France natives and mother-daughter team Rosalie Guillem and Audrey Saba, Le Macaron French Pastries provides an authentic French experience for Americans nationwide. Upon entering, guests are greeted with brilliant colors and a modern interior complemented with traditional music playing throughout the café. Offering more than 20 flavors of macarons, as well as seasonal flavors, the menu extends to include pastries, gelato, coffee, cakes, éclairs, and more. Known for providing guests with a light dessert with lesser calories, the French patisserie has grown to over 50 locations through strategic franchise partnerships.
"New York draws many parallels to our native area of France, being rich in culture with a thriving economy," stated Rosalie Guillem, CEO and co-founder of Le Macaron French Pastries. "As a prime state for expansion, especially with our versatile mobile cart franchise opportunity, we look forward to increasing our footprint through the Downtown Manhattan area, as well as Williamsburg and Staten Island, with franchise partners to help give all New York residents access to our little bites of heaven known as macarons."
In larger metropolitan cities, like New York, Le Macaron French Pastries offers a new franchise opportunity which aims to lean into the growing quick-serve and snack brand trend of kiosks, mobile carts, and express locations. As consumers' on-the-go lifestyle continues to accelerate, Le Macaron French Pastries seeks to capitalize on these captive audiences at malls, airports, sporting events, festivals and other gatherings.
Offering an attractive investment opportunity with limited competition, franchisees can expect an investment ranging from between $91,750 to $127,000 for a mobile cart and $146,000 to $375,500 for a traditional café. All of Le Macaron French Pastries products are made in the kitchen headquarters, eliminating the need for a full kitchen space. Interested parties should have a strong desire to own a business, as well as a passion for the dessert space and success.
For more information on the Le Macaron French Pastries franchise opportunity please visit http://lemacaronfranchise.com/.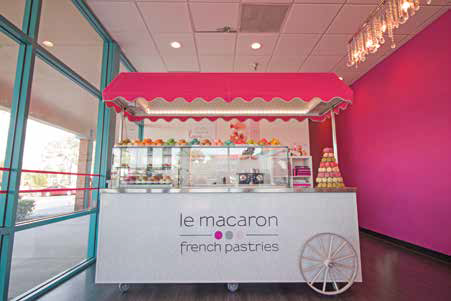 About Le Macaron French Pastries
Founded in 2009 by Rosalie Guillem and her daughter Audrey, Le Macaron French Pastries is an elegant French patisserie that offers guests the finest, authentic French macarons and pastries. Headquartered in Sarasota, Fl., the brand began franchising in 2012 and has since grown to more than 50 locations across the U.S. Le Macaron French Pastries is ranked on Inc. 5,000 2016, as well as in the Top 100 Food and Beverage category by Entrepreneur and hold a No. 9 ranking in the baked goods category. For more information, visit http://lemacaron-us.com/.