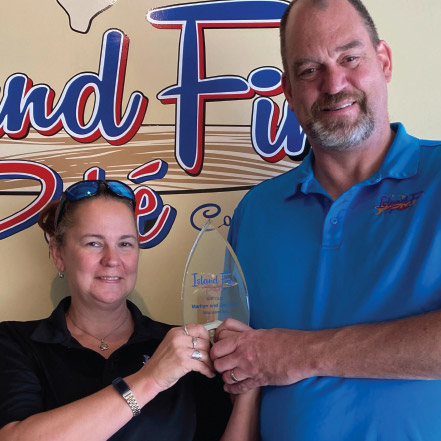 Island Fin Poké's (IFP) first conference recently took place at the Loews Royal Pacific Resort at Universal in Orlando, Florida. Mark Setterington, IFP founder and CEO, welcomed his franchisee families, support team and speakers at the two-and-a-half-day event, which is slated to become an annual tradition. By Cindy Charette
Island Fin Poké's (IFP) first conference recently took place at the Loews Royal Pacific Resort at Universal in Orlando, Florida. Mark Setterington, IFP founder and CEO, welcomed his franchisee families, support team and speakers at the two-and-a-half-day event, which is slated to become an annual tradition. Setterington said: "The fact is, two years ago we had two locations open, and now, boom! We had our national conference with 50 people in the room."
Setterington said he was honored to present the first IFP exemplary awards to the following franchisees:
Big Fish in a Little Pond Award
Buffy & Scott Boyd, Winter Springs, Florida
Awarded to the franchisees with the best Google reviews. Setterington said: "By serving perfect bowls in a cool, clean environment and providing spectacular service, you get positive feedback from your guests that helps promote and grow your business."
The 80K Club Award
Marilyn & Jim Way, Worcester, Massachusetts
Awarded to the franchisees who earned $80,000 in gross sales in one month. Setterington said: "The winners of this award worked extremely hard at building a 'raving fan base' of the IFP brand. They work day and night welcoming their guests and take special care to serve 'perfect bowls'. They are active in their community and are committed to local store advertising."
The Brand Ambassador Award
Jeff, Brenda & Jason Sproat, Wesley Chapel, Florida
Awarded to the franchisees who worked hard at building the IFP brand in their local community and beyond. Setterington said: "This family truly knows the importance of growing their 'ohana'; they work Facebook/social media, and engage with their community daily."
The Hang 10 Award
Geoff and Kris Garrity, Sarasota, Florida
Awarded to the first franchisees to have over 2,500 Facebook followers before opening. Additionally, every Facebook post received a response. Setterington said: "I can tell you, it was awesome to see guests walking up to Geoff on Free Bowl Day saying, 'I feel like I've known you forever!'"
Setterington reminded all franchisees of the heart of what Island Fin Poké is all about: incredible food, remarkable service, and a business model that is easy to replicate – all in a five-star beach shack.
For more information on an Island Fin Poké franchise, visit islandfinpoke.com.
– Cindy Charette