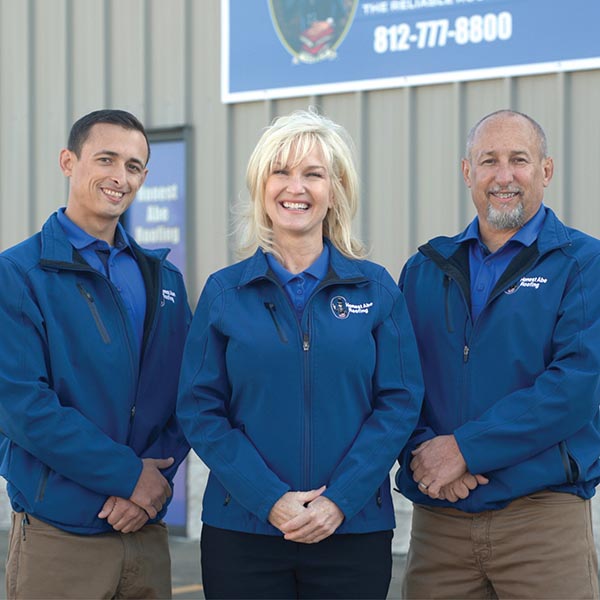 Since opening their doors in May 2018, Honest Abe Roofing has grown their business to a thriving company generating more than $4 million in revenue in 2019. By Rochelle Miller

Just two years ago, Don and Deborah Lanier were living in California, more than 1500 miles away from their son who resided in North Dakota. Don, a manager for a major home improvement company, was on the verge of burn out. That's when they made the decision it was time to wind down and relocated to Evansville, Indiana.
"After about six of months being semi-retired, we said, 'this wasn't for us,' " Deborah explained.
What a difference a year or two can make. Today, the Laniers own and operate a multimillion-dollar franchise for Honest Abe Roofing. With Don's home improvement background and Deborah's 30 years of experience in office management, the couple brings an ideal blend of technical and administrative acumen to the business. Best of all, their son, Jeffry, accepted an offer from his parents to move to Evansville to take on a managerial role, reuniting the clan in the Midwest.
"It's a total family affair," said Don, who manages the sales and production side of the business while Deborah oversees bookkeeping and administration. Even the couple's five dogs are a fixture in the office. The canine members of the family accompany the couple to work daily since the long workdays can be a lonely stretch at home.
This environment is certainly different than what the couple was accustomed to when working for others back in California. "We always dreamed, 'if I were a boss, this is what I would do,' " explained Deborah who worked as an office manager for three decades. "We want to have a great environment, so we're able to fulfill our dreams for what kind of bosses we want to be."
Since opening their doors in May 2018, they've grown their business to a thriving company generating more than $4 million in revenue in 2019. In addition to their unexpected financial success, they also found another surprising perk of working 10-hour days side-by-side.
"This is a bond that will cement us for our life because we took the risk together, we are doing this together, and we are making it successful together – regardless if we argue about things," Deborah quipped, and Don agreed. "It has its challenges because you're with your spouse all day at work, but I think it does bring us closer together because we're working together for a common goal," he said.
While the family's combined skillset surely helped propel the company to success, Don attributes their rapid growth to the extensive marketing support he has received from Honest Abe Roofing. "Businesses fail because nobody knows they're in business," he explained. Since Honest Abe Roofing offers extensive marketing resources, the couple was sold. "That was the major deciding factor for us to jump into it. Deborah and I probably would not have gone on with this adventure if it was not for the marketing. It's overwhelming," Don said.
Having a home improvement background has been helpful, but isn't necessary, he added. "You just have to have an entrepreneur mindset. Know where your weaknesses are and hire it out. You just focus on finding good people and getting qualified people," said Don "Honest Abe already has the systems in place to support someone with a good work ethic to be successful."
For more information about franchising opportunities with Honest Abe Roofing, visit
https://www.honestaberoofingfranchise.com/ or call 866-587-5171.
– Rochelle Miller