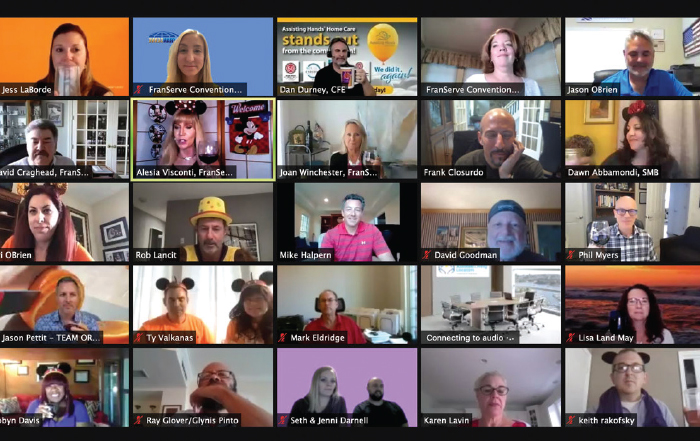 "When life gives you lemons, make lemonade." That's the philosophy that Alesia Visconti adopted this year while planning and executing the annual FranServe convention, which was restructured out of an abundance of COVID precaution. By Jessica Jones
"When life gives you lemons, make lemonade." That's the philosophy that Alesia Visconti adopted this year while planning and executing the annual FranServe convention, which was restructured out of an abundance of COVID precaution.
"The convention was held virtually again this year, as we were still concerned for the well-being of our attendees and because many of our international guests were still not permitted to travel," noted Visconti, CEO of FranServe, Inc., the world's largest franchise consulting and expansion organization, which hosted its annual convention in July. "FranServe is known for having one of the best conventions in the industry, and that's because we focus on having fun while promoting education and relationship-building. Our company culture comes through loud and clear during our conventions – whether in-person or virtual."
Offering networking and social interaction, the three-day extravaganza was originally booked at the Walt Disney World Resort in Orlando, Florida, but was derailed by COVID-19 two years in a row. The VIP gala still went off without a hitch, however, attracting 400-plus attendees and incorporating fun activities along with educational and networking opportunities.
"The myth/belief that Zoom-style meetings during the current COVID climate lack energy and useful content was completely debunked during the recent FranServe-sponsored virtual convention," said David Craghead, chief franchise expansion officer at FranServe. "The three-day event received a plethora of unsolicited messages of sincere praise from FranServe consultants and FranServe partners. Similar to the positive results experienced from our 2020 virtual convention, we fully expect new unit placements from the participating brands to come as a direct result of the superb presentations shared during this event."
Visconti kept the event's Zoom room packed throughout the convention, and hundreds showed up for happy hour with drinks in hand at the end of the sessions each day.
"The FranServe convention is one of the few events where participants genuinely participate," said Jack Monson, chief revenue officer at Social Joey, a content marketing brand that provides a digital presence for franchises around the world. "So many conventions are filled with people barely present and not paying attention. This group was engaged and on the edge of their seats!"
Brandi Johnson, a certified franchise consultant and co-owner of Nova Franchise Services, attended her first FranServe convention in 2014 and hasn't missed one since.
"There's an unmeasurable value to these conventions," Johnson said. "As a seasoned consultant, I know many of the franchisors and their development managers on a professional and personal level, but meeting the new franchisors that are continuously being added to our portfolio guides me in being a better consultant to each of my candidates. The FranServe convention provides me with the ability to not become stale in my business – to learn and grow year after year to be the best possible consultant I can be for my candidates. While this year's convention was virtual like last year, I was extremely impressed by the seamless presentations, along with having the opportunity to interact with fellow consultants and franchisors. FranServe is established on a 'grow or die' philosophy, and the FranServe convention allows each and every consultant the ability to do just that."
Marcus Peters, franchise development manager for Fish Window Cleaning, said: "The convention was super smooth. You and your team made it very enjoyable. Always a pleasure to work with and be a part of FranServe. Looking forward to seeing you all at Disney next year. Would not miss it!"
Ari O'Brien, a senior franchise adviser with Red Rock Franchise Ventures, agreed. "This year's Franserve convention was well thought out and executed. You could see the amount of time and effort that went into every aspect of planning it," O'Brien said. "I feel as though it is so important for consultants, no matter their tenure, to attend every year to be in tune with the franchising industry and trends they see among the brands. Even though the last two conventions have been held virtually, it is still great to be able to connect with everyone online and feel the camaraderie that is so strong among the team! I enjoyed spending the three days online with everyone that attended, and I can't wait to see everyone in person next year in Orlando at Disney World!"
Some attendees enjoyed the virtual format so much that they expressed lament over returning to in-person meetings.
"FranServe's Virtual Convention was enjoyable and effective for all our brands at Rhino7," said Doug Schadle, CEO of Rhino7 Franchise Sales & Development. "We always relish the opportunity to connect with the fine FranServe consultants, and the virtual convention delivered that for us very well. We would not have missed it! As we transition back to an in-person convention with FranServe next year, we welcome the opportunity to get back together face-to-face but also will miss the ease of the FranServe Virtual Convention – especially when it is so well done."
RainTree Franchise Sales was thrilled it went so smoothly. The franchise development company's post on social media said: "Awesome conference! Leave it to Alesia Visconti and everyone at FranServe to coordinate an entire virtual conference absolutely flawlessly. Great seeing everyone!"
Geoff Batchelder, a franchisor and FranServe consultant, sang the praises of the event from both standpoints.
"As a franchise consultant, this convention is a great way to get a lot of important information from franchisors and also learn from others on how to be successful in the business," Batchelder said.  "As a franchisor, it's a great way to get your message out to a large group of consultants in a short amount of time. FranServe does a great job of keeping it light and enjoyable!"
Jack Johnson, CEO of The Franchise Insiders, a top franchise advisory firm, reinforced the importance of attending this event.
"The FranServe convention is a 'must attend' for any consultant who wants to grow a high-performing business," Johnson said. "You owe it to your clients to stay on top of industry trends and franchisor news. The FranServe convention provides this in spades – every year!"
Calling the convention "no-nonsense and content-rich," Johnson praised Visconti and her team for helping FranServe consultants make as many placements as possible. "There's no BS here. Just valuable content every franchise consultant needs to take their business to the next level," he said. "While other groups waste time with superfluous events and awards, the FranServe team delivers content that helps us sell. I count on the insights and industry trends as well as new tools FranServe and the hundreds of franchisors at the event provide to grow my business."
For Visconti, the event is the yearly culmination of FranServe's ultimate mission.
"This is what we do best – connect our franchise consultants with our franchise brands," Visconti concluded. "This is a once-a-year event, and we have over 400 people attend. It's well-planned and well-organized, but it's also full of surprises!"
For more information on becoming a franchise consultant, visit teamfranserve.com or email connect@franserve.com.
– Jessica Jones