No. 1 Flooring Franchise in North America Sets the Foundation for a Milestone Year as Franchise Development Surges. 
ATLANTA — Floor Coverings International® (FCI), the No. 1 flooring franchise in North America, with locally owned Mobile Flooring Showrooms® and knowledgeable teams of trusted professionals, reports strong mid-year growth with high performance. With 39 openings and 43 franchise signings year-to-date, the legacy brand is ramping up development efforts with aim to have 250 operating franchises by year-end.
Key to the brand's strong growth has been the addition of 50-plus years of experience to its franchise development team. With seasoned experts committed to franchisee support and helping drive strong performance, FCI is growing with both existing owners looking to add additional territories and franchisees seeking to diversify their portfolios in the home improvement space. Franchise inquiries are up 45% year-over-year. Company leadership aims to award 90 total franchises by year-end.
"With a focus on personalized service, quality products, detailed communication, and a seamless installation process, we've built a solid reputation and positioned ourselves for remarkable franchise growth," said Tom Wood, President & CEO of Floor Coverings International. "The future is bright – our development team has an ambitious growth trajectory with a goal to have 350 franchises over the next five years, and average unit volumes soaring above $2,000,000. Key to achieving this will be our continued strong commitment to our dedicated franchisees who are the cornerstone of our success."
Since its launch in 1988, FCI has become the recognized market leader by building a robust network of 225 franchises across the country, serving more than 400,000 happy customers, and is showing no signs of slowing down. With the $48 billion flooring industry expected to rise, FCI is poised to continue its market leadership and growth.
The leadership team works tirelessly to keep franchisees ahead of the curve by providing innovative, personalized, high-quality support with an eye on maximizing unit-level volume. FCI has invested millions of dollars into marketing initiatives to strengthen brand awareness, including 22 marketing co-ops, a national ad fund, brand refresh, new website, etc., and as a result, franchisees are seeing the impact. According to FCI's 2023 Franchise Disclosure Document, the Top 50% of franchises generated $1,800,000 Average Unit Volume for 2022*.
Driving FCI's strong performance is its Mobile Flooring Showrooms and Rave-Worthy Customer Experience.
Challenging brick-and-mortar concepts, FCI has revolutionized the flooring industry by bringing the shopping experience directly to customers' homes. The Mobile Flooring Showrooms are equipped with thousands of samples, allowing customers to visualize different flooring materials and designs in their own living spaces. Whether customers are looking for hardwood, carpet, tile, vinyl, or any other flooring option, FCI offers a comprehensive range of products from leading manufacturers. Partnerships with renowned suppliers ensure that customers have access to top-notch materials that are durable, stylish, and meet their specific requirements.
Design Associates provide guidance and expertise, helping customers make informed decisions that align with their specific needs and preferences. By combining cutting-edge technology with personalized service, FCI has transformed the way customers shop for flooring and has set new industry standards prioritizing customization and accessibility.
The success of FCI has not gone unnoticed. Recently, the brand ranked on Entrepreneur's Franchise 500®, the world's first, best, and most comprehensive franchise ranking. Key to achieving this prestigious ranking is Floor Coverings International's outstanding performance in unit growth, financial strength and stability, and overall brand power.
With prime territories available, FCI is actively seeking growth-minded individuals who are involved in their community, boast leadership skills, and are eager to explore the world of franchising. When franchisees invest with FCI, they're investing in an organization with a strong culture, solid systems, and a proven business model backed with 30-plus years of experience in providing exceptional customer service.
For more information about the franchise opportunity, please visit https://flooring-franchise.com/ or call 833-432-4669.
*Please see Item 19 of the April 2023 Franchise Disclosure Document for more information. Results may differ. There is no assurance that any franchisee will perform as well.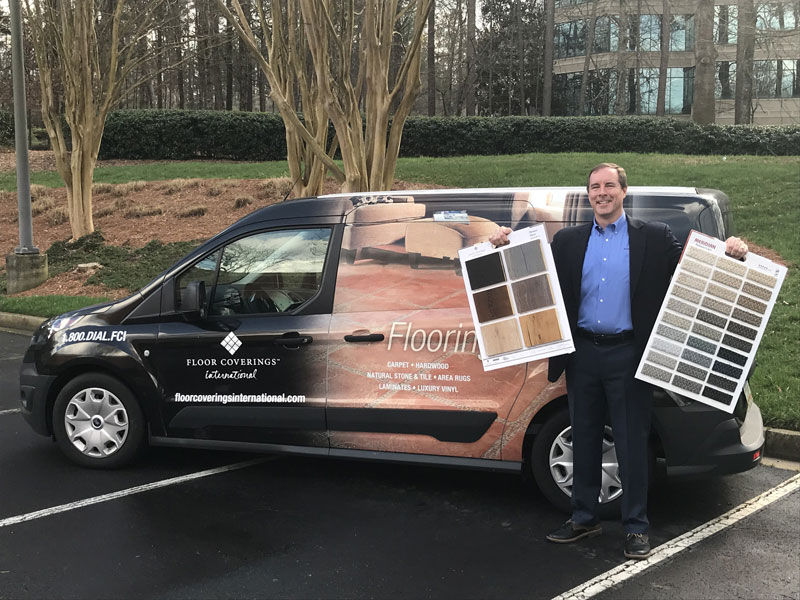 About Floor Coverings International
Floor Coverings International is the #1 Mobile Flooring franchise in North America. Utilizing a unique in-home experience, the mobile showroom comes directly to the customer's door with more than 3,000 flooring choices. Floor Coverings International has 225-plus locations throughout the U.S. and Canada with plenty of opportunity for continued expansion. For franchise information, please visit https://flooring-franchise.com/ and to find your closest location go to www.floorcoveringsinternational.com.