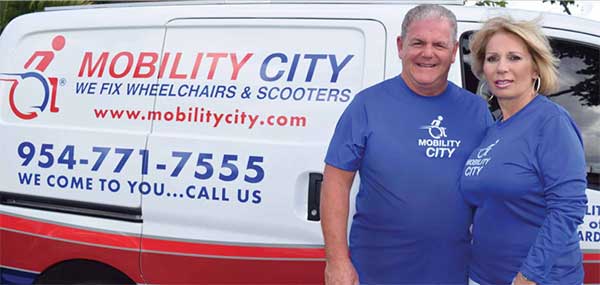 There is nothing worse than feeling powerless to help the ones you care about; this was the motivation behind the creation of Mobility City. By Elice Morgenson
Feeling powerless is how Mobility City was born
There is nothing worse than feeling powerless to help the ones you care about; this was the motivation behind the creation of Mobility City. CEO Diane Baratta's late husband relied on a mobility scooter to reach his dialysis treatments. When his scooter broke down, it took a full week for Diane to locate a repairman. Diane did her research and realized there was a dire need for the services she had been looking for herself. Diane's husband past, and heartbroken, she went on to continue the quest and make sure to find a way to prevent anyone from going through that stress again, Diane teamed up with Vincent Baratta, a veteran in the Home Medical Equipment industry. Together they created the first repair and cleaning service for mobility equipment. Years later, they became husband and wife.
Vincent Baratta brings 35 years of experience in Home Medical Equipment, founding Homecare America, a franchise that is the first to deliver "continuum of care" products and services found in hospitals to a retail store. Mobility City offers one-of-a-kind mobile cleaning, repair, rental, and maintenance for wheelchairs, power-chairs, scooters, lift-out chairs, and other mobility aids. It offers its services to hospitals, veterans, seniors, and disabled people of all ages. Veterans are encouraged to consider the Mobility City franchise model as they would benefit from a 10% discount as well as become part of a company that would enable a veteran to continually give back to their community and often, fellow veterans.
Franchisees have the opportunity to bring the signature "Mobile Service Program" to help members of their community that otherwise would have no reliable way of maintaining their way of life. Mobility City is a mobile business model that offers a flexible schedule and customer base. There is a specially designed training program, coupled with their continued product training that makes transitioning into this career with no prior experience a dream come true for the ambitious entrepreneur. There are many ways the franchisee can approach the business model. Some of the different business models are, offering complete services for mobility products, installation of home safety products, retail space for used equipment, and even layaway programs for individuals on fixed incomes.
– Elice Morgenson