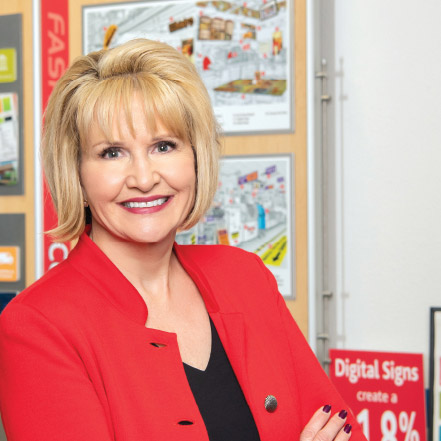 For thirty years, Mr. Transmission/Milex Complete Auto Care has been a one-stop shop providing customers with auto care solutions, promoting long-term customer relationships and delivering more revenue streams for franchisees. By Jessica Jones
Q&A with FASTSIGNS CEO Catherine Monson
As president and CEO of FASTSIGNS International Inc., the largest sign and visual communications franchisor in North America, Catherine Monson oversees the operations of more than 700 independently owned and operated centers in nine countries. A leader in her industry with more than 30 years of franchising and management experience, Monson has successfully led the FASTSIGNS brand since 2009. She frequently shares her insights as a keynote speaker at many franchise industry events. We asked how her business holdings fared in 2020 and where she sees her company in the future.
Q: The past year was turbulent for the world and small businesses in general. How did FASTSIGNS fare during the global pandemic?
A: The pandemic certainly was not something we could've predicted or prepared for, but once it began to impact our industry in mid-March, we vowed to stand by our franchisees and help them every step of the way. Our team worked incredibly hard to ensure FASTSIGNS centers nationwide were deemed essential businesses while thousands of businesses across the country were forced to temporarily close.
FASTSIGNS franchisees were able to swiftly pivot their services to best serve their customers. While the business landscape has changed rapidly in essentially every industry due to shifts in guidelines to keep individuals safe, one thing that has remained consistent is businesses' need to communicate. The events of 2020 have shown us that the FASTSIGNS business model allows our franchisees to be nimble and respond quickly to whatever their communities need the most.
Our strong growth year-to-date is a testament to the strength of the FASTSIGNS network, our commitment to the success of our franchisees and the local communities that continue to support us as we all navigate through these unprecedented times together.
Q: Has the company grown or expanded in the past year?
A: To date, we've signed 16 new franchise agreements, 12 of them signed since March 1, to develop locations in new markets like Aurora, Illinois, Panama City, Florida, and the Toronto area. FASTSIGNS also celebrated the opening of 20 new centers this year with 16 new centers opened since March 1.
Q: What was the impetus for the company's recent NerdsToGo acquisition?
A: We love the computer and IT support market; every small and mid-size business needs such support. Just as FASTSIGNS is a business-to-business provider, as well as servicing consumers, so is NerdsToGo. We look forward to growing this exciting emerging brand into the leading franchise in the space.
FASTSIGNS has 200 open and approved markets available for franchisees to develop in, but there are a lot of markets where we're sold out, including San Antonio, Atlanta and Minneapolis, to name just a few. FASTSIGNS growth has been strategic and fast, and we will continue to drive that growth as the brand expands both domestically and internationally. That said, the NerdsToGo acquisition allows us to revisit cities where FASTSIGNS centers already exist, but this time with another niche service that communities and local businesses can benefit from just as much.
When looking into a new industry to enter, we were attracted to the IT support and consultant space. It's very similar in that successful franchisees in this space possess the same qualities as those who succeed with FASTSIGNS. For both NerdsToGo and FASTSIGNS, we're looking for middle-management employees who want to create an enterprise. We're very excited to have the opportunity to build the NerdsToGo brand and footprint.
Q: Now that these two brands have aligned, what do you see in the future for FASTSIGNS?
A: NerdsToGo offers both business-to-consumer and business-to-business services, similar to FASTSIGNS. For franchise development purposes, we've really focused on building out the B2B aspect of FASTSIGNS, which is how we've been able to reach more than 735 locations worldwide. NerdsToGo currently has 25 locations and we plan to focus on refining the brand in a few ways, but the main aspect we're focusing on is to define the opportunity in the B2B space. The two brands and their services complement each other, and we see this acquisition as an opportunity to help our existing and new franchisees expand their businesses and revenues for years to come.
For information about a FASTSIGNS franchise opportunity, contact Mark Jameson at mark.jameson@fastsigns.com or 214-346-5679.
– Jessica Jones